On July 7, 2023, Kiffin Anderson, an employee of LPL Financial LLC and currently affiliated with BROKERS INTERNATIONAL FINANCIAL SERVICES, LLC and BROKERS FINANCIAL, was found guilty of violating rules 2010 and 4511 by the Financial Industry Regulatory Authority (FINRA). The violations were related to the falsification of customer signatures on account transfer forms.
Details of the Violation
Anderson had been reusing customers' signatures on account transfer documents, albeit with customer authorization. This action was found to be in direct violation of the firm's document signature policy. The violation did not involve any specific product.
Upon investigation by FINRA, it was found that Anderson's actions were in breach of the trust and confidence that customers place in their financial advisors. This breach of trust was not only detrimental to the customers involved, but it also undermined the integrity of the entire financial services industry.
Penalties and Sanctions
As a result of these violations, Anderson faced several sanctions. The penalties imposed included: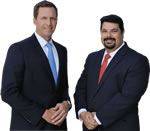 AD - Recover your investment losses! Haselkorn & Thibaut, P.A. is a national law firm that specializes in fighting ONLY on behalf of investors. With a 95% success rate, let us help you recover your investment losses today. Call now 1-888-784-3315 or visit InvestmentFraudLawyers.com to schedule a free consultation and learn how our experience can help you recover your investment losses. No recovery, no fee.
A civil and administrative penalty or fine of $5,000
A suspension affecting all capacities for a duration of one month
The sanctions were accepted by Anderson under the Acceptance, Waiver & Consent (AWC) process of FINRA. This process allows for a quicker resolution of disciplinary actions without the need for a formal hearing.
Investors Recovering Losses with FINRA Arbitration
For investors who have suffered losses due to such misconduct, there is a recourse. They can recover their losses through the FINRA arbitration process. The FINRA arbitration is a quicker, less formal, and less expensive alternative to litigation. It allows investors to present their case before a neutral third party, who then makes a decision on the dispute.
Investors who believe they have been affected by such actions should consider consulting with a securities arbitration attorney. These professionals can guide investors through the complex process of filing a claim, presenting evidence, and ultimately recovering their losses.
It is important to note that while the FINRA arbitration process can be beneficial for investors seeking to recover losses, it is not a substitute for preventative measures. Investors are encouraged to thoroughly vet their financial advisors and be vigilant about any suspicious activities.
Incidents like these underscore the importance of trust and integrity in the financial services industry. They serve as a reminder of the vital role regulatory bodies like FINRA play in maintaining the credibility of the industry and protecting investors.