On July 18, 2023, a regulatory respondent, Kevin Loyd, allegedly violated the MO Securities Division rules by failing to file a correcting amendment to his registration within 30 days of the specified event or occurrence, as required by 15 CSR 30-51.160(3)(A). The violation involved multiple firms during the relevant period, including National Planning Corporation, Barber Financial Group, First Allied Advisory Services, Inc., and First Allied Securities, Inc.
Current Employment with LPL FINANCIAL LLC
Loyd is currently employed with LPL FINANCIAL LLC (CRD 6413), where he has been working since June 20, 2023. His role within the company is described as a broker and investment advisor. His current employment status with LPL FINANCIAL LLC was confirmed as of July 19, 2023.
Penalties and Sanctions
The regulatory respondent was subjected to civil and administrative penalties/fines due to his violation. The details of the sanctions are as follows:
The case, referenced as AP-23-11, was handled by the Missouri Consent. The details of the case are available for public view on BrokerCheck, a tool provided by FINRA (Financial Industry Regulatory Authority) for investors to research the background and experience of financial brokers, advisers, and firms.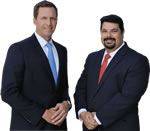 AD - Recover your investment losses! Haselkorn & Thibaut, P.A. is a national law firm that specializes in fighting ONLY on behalf of investors. With a 95% success rate, let us help you recover your investment losses today. Call now 1-888-784-3315 or visit InvestmentFraudLawyers.com to schedule a free consultation and learn how our experience can help you recover your investment losses. No recovery, no fee.
Recovering Losses with FINRA Arbitration
For investors who have suffered losses due to the actions of brokers or financial advisors, FINRA arbitration offers a path to potentially recover those losses. The arbitration process is often quicker and less expensive than traditional litigation, and it can be a powerful tool for investors.
FINRA arbitration involves a panel of arbitrators who hear the case and make a decision. The panel's decision is final and binding. Investors who are considering arbitration should consult with an attorney or other professional to understand the process and its potential outcomes.
Investors can also take steps to protect themselves by regularly reviewing their account statements for unauthorized transactions or other irregularities, asking questions about transactions they don't understand, and researching the background of their broker or investment advisor.
In the case of Kevin Loyd, investors who believe they may have suffered losses due to his alleged violation can consider pursuing a FINRA arbitration claim. They may be able to recover their losses and hold the responsible parties accountable.
It's important for investors to understand their rights and the resources available to them. FINRA arbitration is one such resource that can help investors recover losses due to the actions of brokers or financial advisors.