A 21-year veteran of the brokerage industry and apparently a well-regarded one, Los Angeles-based Antoine Souma, has been fined $20K and placed on suspension for two months by the Financial Industry Regulatory Authority (FINRA). The FINRA stricture pertains to Souma's actions between November 2014 and December 2015, when he was a broker with J.P. Morgan Advisors (known as J.P. Morgan Securities earlier). FINRA'a investigation was triggered by a U5 filing of J.P. Morgan.
During this period six 'incorrect and misleading reports, misstating performance and amounts while understating commissions paid by the customer, were sent by Souma. The subject of the inaccurate reports were corporate bonds, structured products, municipal securities as well as other customer holdings. The customer was not identified by FINRA.
By doing so, Souma violated:
FINRA Rule 2210 prohibits inaccurate communications with the public
A Municipal Securities Rulemaking Board which is similar to the above FINRA rule
Rule 2010 requires high standards of commercial honor that is like a 'catch-all' legislation
A settlement was reached on the 5th of November, with Souma neither denying nor accepting the charges, with the commencement date of the suspension being set as the 6th of December. The suspension will not impact Souma's RIA, only his brokerage activities during its currency. There was no comment on the settlement by Brian L. Rubin, Souma's lawyer.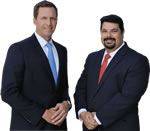 AD - Recover your investment losses! Haselkorn & Thibaut, P.A. is a national law firm that specializes in fighting ONLY on behalf of investors. With a 95% success rate, let us help you recover your investment losses today. Call now 1 888-628-5590 or visit InvestmentFraudLawyers.com to schedule a free consultation and learn how our experience can help you recover your investment losses. No recovery, no fee.
Antoine Souma's career
Some moved to Deutsche Bank Securities in 2008 after an initial stint with UBS Financial Services from August 2000. The Deutsche Bank stint lasted till July 2010 when he moved to J.P. Morgan Securities and then on to Morgan Stanley in 2016. After 4 years with Morgan Stanley, he moved to Insigneo in 2020.
According to his BrokerCheck record, with effect from July 2020, Souma had been registered with Insigneo Securities, a specialist in offshore clients, and an independent operator.
From April, Souma has operated Beverly Hills-based Galliott Capital Advisors, a registered investment advisory firm of his own. The term Galliott apparently means a small sailboat. Galliott has assets under management to the tune of $1.4 billion on behalf of 63 wealthy individuals and has custody arrangements with the advisor services unit of Charles Schwab & Co.
In 2016, Barron had ranked him at the 76th position in their Top 100 Financial Advisors list when he was the head of a team that was managing client assets valued at $3 billion.
Souma's history of complaints
His brush with law enforcement started in 2016 when an oil-and-gas investor Ziad Ghandour, who was also the founder of an equity firm, accused him of unsuitable and excessive trading in his account from 2013 to 2015, in addition to the falsification of reports, misuse of discretionary authority as well as refusal to extend a credit line that was promised.
A $14 million settlement had been reached by J.P. Morgan Securities with Ghandour, against an initial claim of $20 million, with no contribution made by Souma who, as written in his regulatory filing at the time, "vehemently denies the claimant's allegations."
A customer claim of $250,000 for recommending an unsuitable alternative investment, that was denied, is mentioned on his BrokerCheck record.
In February 2019, Souma also won the expungement of two other client complaints, as per an arbitration award.
In one of these two, dating back to 2008, the customer had claimed $125,000 over what was labeled as an unsuitable recommendation relating to a variable rate loan. Though the claim was settled for $37,500 the arbitration panel cleared Souma of any charges of wrongdoing as they adjudged the customer to be "a sophisticated investor and fully understood the consequences."
An even older claim from 2004, that sought $15,000 as compensation for unauthorized trading and misrepresentation, was dismissed. As they claim "involved a financial transaction outside the services offered by [Souma's former firm] and did not involve wrongdoing by Claimant" Souma was cleared by the panel.
Souma had been notified by FINRA earlier in the year regarding the issue of inaccurate reports and their expectation of likely penalties for the same. Souma "strongly disagreed with the FINRA allegations and determination in a comment attached to the disclosure on BrokerCheck. That comment has now been replaced by a copy of the final settlement. "Specifically, I did not cause inaccurate documents to be sent to a customer nor did I cause any of my employers to fail to retain any electronic communications," Souma had written.