Investors are increasingly seeking redress in the face of alleged fraudulent activities, misrepresentation, and negligence by their financial advisors. A case in point is a recent dispute involving a client of NATIONWIDE PLANNING ASSOCIATES INC. and their broker Jose Candelario Padilla.
Allegations Against Jose Candelario Padilla
The client alleges that Padilla, who is also an investment advisor at NPA ASSET MANAGEMENT, LLC, made a series of unsuitable investment recommendations. The alleged activities took place between 2019 and the end of 2022. According to the client's claims, Padilla breached fiduciary duty, contract, and failed to act in the best interest of the client. Furthermore, the client alleges that Padilla and his supervising firm failed to supervise, engaged in fraud, constructive fraud, negligence, and gross negligence.
The client is seeking damages amounting to $1,500,000. The types of securities involved in this case include Equity Listed (Common & Preferred Stock), Penny Stock, and ETFs.
Investors Recovery Through FINRA Arbitration
Investors who have suffered losses due to the misconduct of their brokers or investment advisors have a chance of recovering their losses through the Financial Industry Regulatory Authority (FINRA) arbitration. This process involves the resolution of disputes between investors and their brokers or investment advisors outside the court system. It is usually faster and less expensive than litigation.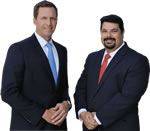 AD - Recover your investment losses! Haselkorn & Thibaut, P.A. is a national law firm that specializes in fighting ONLY on behalf of investors. With a 95% success rate, let us help you recover your investment losses today. Call now 1-888-784-3315 or visit InvestmentFraudLawyers.com to schedule a free consultation and learn how our experience can help you recover your investment losses. No recovery, no fee.
FINRA arbitration is a fair and efficient process that allows investors to present their case before a panel of impartial arbitrators.
Investors can recover their losses if the arbitrators find that their broker or investment advisor acted negligently or committed fraud.
The arbitration decision is final and binding, with limited grounds for appeal.
Investors who believe they have been wronged by their financial advisors should consider seeking legal counsel to explore their options for recovery through FINRA arbitration. It is important to act promptly as there are time limits for filing claims.
Protecting Investors' Rights
The case of Jose Candelario Padilla and NATIONWIDE PLANNING ASSOCIATES INC. underscores the importance of investor vigilance and the need for regulatory bodies like FINRA to protect investors' rights. It is crucial for investors to understand the risks associated with their investments and to ensure that their brokers and investment advisors are acting in their best interest.
Investors who believe they have suffered losses due to the misconduct of their brokers or investment advisors should not hesitate to take action. Through mechanisms such as FINRA arbitration, they can seek and potentially recover their losses, sending a clear message to the financial industry that such misconduct will not be tolerated.