The world of finance is often fraught with complexities and challenges. One such challenge is the recent case involving Jose Candelario Padilla of Nationwide Planning Associates Inc. and NPA Asset Management, LLC. The case is based on allegations of misrepresentations and omissions, breach of fiduciary duty, breach of contract, unsuitable investment recommendations, and failure to act in the "best interest" of the claimants.
The Case in Detail
According to the claimants, Padilla also failed to supervise, committed fraud, constructive fraud, negligence, and gross negligence. The claimants are seeking compensation of $700,000. This case highlights the product type: Equity Listed (Common & Preferred Stock), Penny Stock and ETFs. The case is currently pending and under investigation.
Who is Jose Candelario Padilla?
Jose Candelario Padilla is a broker and investment advisor who has been associated with Nationwide Planning Associates Inc. (CRD 31029) since September 2016 and NPA Asset Management, LLC (CRD 131534) since February 2018. His alleged misconduct has raised serious concerns among investors and the financial community.
Investors and FINRA Arbitration
For investors who have suffered losses due to such misconduct, there is a way to potentially recover their losses. This can be done through the Financial Industry Regulatory Authority (FINRA) arbitration. FINRA is a non-governmental organization that regulates member brokerage firms and exchange markets in the United States.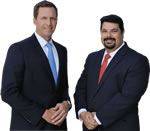 AD - Recover your investment losses! Haselkorn & Thibaut, P.A. is a national law firm that specializes in fighting ONLY on behalf of investors. With a 95% success rate, let us help you recover your investment losses today. Call now 1-888-784-3315 or visit InvestmentFraudLawyers.com to schedule a free consultation and learn how our experience can help you recover your investment losses. No recovery, no fee.
FINRA arbitration is a quicker, simpler, and less formal alternative to litigation. It is a dispute resolution process where a neutral third party (the arbitrator) listens to both sides of the dispute, reviews evidence, and then makes a decision.
Investors can file a claim against the broker or the brokerage firm if they believe they have been wronged.
The decision made by the arbitrator is final and binding.
Investors who have suffered losses due to the alleged misconduct of Jose Candelario Padilla can consider this option. It is advisable to consult with an experienced attorney who can guide you through the process.
Final Thoughts
Investing always comes with risks. However, investors should not have to suffer due to the negligence or misconduct of their brokers or advisors. The case of Jose Candelario Padilla serves as a reminder of the importance of proper supervision and ethical conduct in the financial world. It also highlights the role of regulatory bodies like FINRA in protecting the interests of investors.