In a shocking revelation, investors have filed a pending customer dispute against three financial advisors, alleging their involvement in a Ponzi Scheme. The claimants have accused John Woods, James Woods, and Michael Mooney of conducting a fraudulent operation that spanned over a decade, from 2008 to 2021. The total amount under dispute is a staggering $1,000,000.
About the Advisors
James Woods was previously associated with Oppenheimer & Co. Inc. (CRD 249) from 01/03/2003 to 08/08/2008. Following his stint at Oppenheimer, Woods moved to Southport Capital (CRD 113364) where he served from 12/19/2008 to 05/16/2022. The details about John Woods and Michael Mooney's previous affiliations are not available at the moment.
Alleged Ponzi Scheme
The claimants have alleged that the advisors conducted a Ponzi scheme, a fraudulent investing scam promising high rates of return with little risk to investors. The Ponzi scheme generates returns for older investors by acquiring new investors. This is similar to a pyramid scheme in that both are based on using new investors' funds to pay the earlier backers.
Investors Recovery through FINRA Arbitration
Investors who have suffered losses due to the alleged Ponzi scheme have a potential avenue for recovery through the Financial Industry Regulatory Authority (FINRA) arbitration. FINRA is a non-governmental organization that regulates member brokerage firms and exchange markets, working under the authorization of the Congress.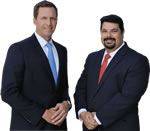 AD - Recover your investment losses! Haselkorn & Thibaut, P.A. is a national law firm that specializes in fighting ONLY on behalf of investors. With a 95% success rate, let us help you recover your investment losses today. Call now 1-888-784-3315 or visit InvestmentFraudLawyers.com to schedule a free consultation and learn how our experience can help you recover your investment losses. No recovery, no fee.
FINRA Arbitration: It is a streamlined process, designed to resolve disputes among investors, brokerage firms, and individual brokers. It is quicker and less complex than litigation, which can be a lengthy and costly process.
Recovering Losses: If the arbitration panel rules in favor of the investor, the individual or firm in question may be ordered to pay damages to the investor. This could include the return of lost funds, as well as additional compensation.
It's important to note that while arbitration can be a powerful tool for investors seeking to recover losses, it's not a guarantee. The success of an arbitration claim depends on a variety of factors, including the strength of the evidence, the specifics of the investment contract, and the decision of the arbitration panel.
Final Thoughts
The allegations against John Woods, James Woods, and Michael Mooney are serious and highlight the importance of investor vigilance. Investors are advised to thoroughly research any investment opportunity and the individuals or firms offering them. The case also underscores the value of regulatory bodies like FINRA in providing avenues for dispute resolution and the potential recovery of lost funds.