Two prominent financial advisors, John Woods and Michael Mooney, are under fire as plaintiffs allege that they conducted a Ponzi Scheme from 2008 to 2021. The dispute, which is still pending, was filed under case number 1949233.
John Woods was previously associated with Oppenheimer & Co. Inc. (CRD 249) from January 3, 2003, to December 31, 2016. Following his time at Oppenheimer, Woods joined Southport Capital (CRD 113364) where he worked from January 2, 2019, to August 26, 2021.
Details of the Alleged Ponzi Scheme
The exact details of the alleged Ponzi scheme are not yet public. However, it is known that the scheme involved equity listed (common and preferred stock) and other private placements. The case, filed under the California jurisdiction with the case number CA003165NCN1111N, is currently under review by the Financial Industry Regulatory Authority (FINRA).
Investors' Potential Recourse
Investors who suffered losses due to the alleged Ponzi scheme conducted by John Woods and Michael Mooney have the option to recover their losses through FINRA arbitration. FINRA arbitration is a quicker and more cost-effective method than traditional litigation to resolve disputes between investors and their brokers or brokerage firms.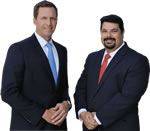 AD - Recover your investment losses! Haselkorn & Thibaut, P.A. is a national law firm that specializes in fighting ONLY on behalf of investors. With a 95% success rate, let us help you recover your investment losses today. Call now 1-888-784-3315 or visit InvestmentFraudLawyers.com to schedule a free consultation and learn how our experience can help you recover your investment losses. No recovery, no fee.
Fast Resolution: Unlike court proceedings that can take several years, FINRA arbitration typically resolves within 14 months.
Cost-Effective: Arbitration is generally less expensive than court litigation as it avoids many court costs and legal fees.
Final and Binding: The arbitration decision is final and binding, with very limited rights to appeal.
Privacy: FINRA arbitration hearings are private, which can benefit investors who prefer to avoid public attention.
How to File for FINRA Arbitration
Investors looking to recover their losses can file a claim with FINRA. This involves submitting a statement of claim, outlining the dispute and the type of relief sought. Once the claim is filed and the necessary fees are paid, FINRA will appoint an arbitrator or panel of arbitrators to oversee the case.
Conclusion
Investors who believe they have been victims of the alleged Ponzi scheme by John Woods and Michael Mooney are encouraged to explore their options for recovery. FINRA arbitration could be a viable path to recoup lost investments. It's advisable to consult with a lawyer experienced in securities arbitration to guide through the process and maximize the potential for recovery.