The financial industry is once again in the spotlight as a recent customer dispute has emerged involving John Hervig, a registered representative at FIDELITY BROKERAGE SERVICES LLC. The claimant alleges that due to lack of proper supervision, the representative made an unsuitable recommendation which led to a significant tax event.
Details of the Dispute
The claimant's allegation centers around the transfer of an annuity. It is alleged that the representative made a recommendation which was not in the best interest of the client, leading to a tax event. The claimant is seeking damages of approximately $184,000.
John Hervig has been a registered broker with FIDELITY BROKERAGE SERVICES LLC since December 15, 1997. He has also been a registered investment advisor with FIDELITY PERSONAL AND WORKPLACE ADVISORS since July 13, 2018. His areas of expertise include annuity-variable investment.
Investors Recovering Losses with Finra Arbitration
When disputes like this arise, investors often turn to the Financial Industry Regulatory Authority (FINRA) for recourse. FINRA provides an arbitration platform for investors to resolve disputes with their brokers or brokerage firms. This method is generally faster and more cost-effective than traditional litigation.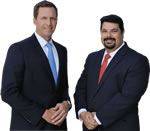 AD - Recover your investment losses! Haselkorn & Thibaut, P.A. is a national law firm that specializes in fighting ONLY on behalf of investors. With a 95% success rate, let us help you recover your investment losses today. Call now 1-888-784-3315 or visit InvestmentFraudLawyers.com to schedule a free consultation and learn how our experience can help you recover your investment losses. No recovery, no fee.
FINRA arbitration can handle a wide range of issues, including unsuitable investment recommendations, misrepresentation, and failure to supervise.
Investors can seek to recover losses that resulted from the misconduct of their brokers or brokerage firms.
The arbitration process is confidential and the decisions are final and binding.
Investors who have suffered losses due to the misconduct of their brokers or brokerage firms should consider seeking legal advice to understand their rights and the process of FINRA arbitration.
Protecting Investor Interests
Incidents like these highlight the importance of diligent supervision in the financial industry. Brokers and their firms have a duty to act in the best interest of their clients. Failure to do so can lead to significant financial losses for investors.
Investors are encouraged to regularly review their investment portfolios and the advice they receive from their brokers. If they suspect any irregularities, they should not hesitate to seek legal advice.
As the financial industry continues to evolve, it is crucial for regulatory bodies like FINRA to continue their efforts in protecting investor interests and maintaining the integrity of the financial markets.