FINRA reports that Jermaine Kahlil Benjamin (CRD# 6152653) has been permanently barred from acting as a broker or associating with a broker-dealer firm by the Financial Industry Regulatory Authority ("FINRA").
FINRA's decision comes after Benjamin refused to produce investigation-related information regarding his former firm's Form U5 disclosure of his alleged participation in unauthorized securities transactions and misappropriation/defalcation.
According to FINRA BrokerCheck, Jermaine Benjamin was previously registered with Raymond James Financial Services from 2020 to 2022 in St. Petersburg, FL. He was also licensed with Pruco Securities, a/k/a Prudential, from 2013 to 2020 in Tampa, FL.
Investors that suffered losses with Jermaine Benjamin may be entitled to a financial recovery. Contact Haselkorn & Thaibut (investmentFraudLawyers.com) immediately at 1 888-628-5590 to discuss your recovery options at no cost.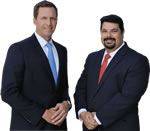 AD - Recover your investment losses! Haselkorn & Thibaut, P.A. is a national law firm that specializes in fighting ONLY on behalf of investors. With a 98% success rate, let us help you recover your investment losses today. Call now 1-888-784-3315 or visit InvestmentFraudLawyers.com to schedule a free consultation and learn how our experience can help you recover your investment losses. No recovery, no fee.
FINRA Permanently Bars Jermaine Benjamin
On June 7th, 2023, FINRA's Department of Enforcement entered into a Letter of Acceptance, Waiver, and Consent ("AWC") with Jermaine K. Benjamin, disclosing that he consented to sanctions of a permanent bar from associating with any FINRA member in all capacities.
According to the AWC, the matter originated from FINRA's examination of an amended Form U5 filed by Pruco Securities. FINRA's Form U5 is the "uniform termination notice for securities industry registration" used by brokerage firms each time one of their registered employees leaves the firm for any reason.
FINRA found that Form U5, filed by Pruco Securities on July 2, 2020, allegedly stated that Benjamin voluntarily terminated his registration with the firm. Nearly two years later, on May 25, 2022, Pruco filed a Form U5 amendment which stated that the firm received a customer complaint alleging "unauthorized transactions and misappropriation/defalcation" by Jermaine Benjamin while he was licensed with Pruco Securities.
On February 14, 2023, in connection with its investigation of the amended Form U5 filed by Pruco, FINRA sent a request to Benjamin for the production of documents and information pursuant to FINRA Rule 8210.
As of May 22, 2023, Benjamin acknowledged that he received FINRA's request and would not produce the requested documents and information at any time. By failing to produce the documents and information as requested by FINRA, Jermaine Benjamin violated FINRA Rules 8210 and 2010.
FINRA's Provision of Information and Testimony (Rule 8210)
Under FINRA Rule 8210, all brokerage firms and registered financial professionals are required to provide information, documents, and testimony upon regulators' requests.
A violation of FINRA Rule 8210 is also a violation of FINRA Rule 2010, which requires brokerage firms and their registered representatives to "observe high standards of commercial honor and just and equitable principles of trade."
Former customers of Jermaine Benjamin that suffered losses at Raymond James or Pruco Securities are encouraged to contact an investment fraud attorney. Haselkorn & Thaibut, our recommended investor firm, is available for free consultations to discuss recovery options at 1 888-628-5590
About Haselkorn & Thibaut
Haselkorn & Thibaut is a leading national securities law firm that practices exclusively in securities arbitration on behalf of retail and institutional investors worldwide in large and complex securities matters. The firm has recovered millions in FINRA arbitrations and other securities litigation matters. Haselkorn & Thibaut has office locations in Florida, New York, and Texas.
Free AlphaBetaStock's Cheat Sheet (No CC)!
+ Bonus Dividend Stock Picks