James Garraway, a former broker and investment advisor with Thrivent Investment Management Inc. and currently with Simplified Wealth Management, has been sanctioned by the Financial Industry Regulatory Authority (FINRA) following an investigation into allegations of forgery and falsification of customer signatures. The sanctions include a civil and administrative penalty of $5,000 and a suspension from practicing in all capacities for six months, effective from August 7, 2023, to February 6, 2024.
Garraway's Misconduct
According to FINRA's findings, Garraway electronically signed customer names on approximately 101 forms associated with insurance and securities products without obtaining customer permission. This misconduct was not limited to insurance forms; some of the forms involved securities products, which are required books and records of the firm. By forging and/or falsifying customer signatures, Garraway caused his member firm to maintain inaccurate books and records.
Garraway consented to the sanctions without admitting or denying the findings. The sanctions were imposed as part of an Acceptance, Waiver & Consent (AWC) agreement with FINRA.
Investor Recourse
Investors who have suffered losses due to the misconduct of brokers like James Garraway have recourse through FINRA arbitration. This is a streamlined process designed to help investors recover losses caused by broker misconduct.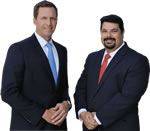 AD - Recover your investment losses! Haselkorn & Thibaut, P.A. is a national law firm that specializes in fighting ONLY on behalf of investors. With a 95% success rate, let us help you recover your investment losses today. Call now 1-888-784-3315 or visit InvestmentFraudLawyers.com to schedule a free consultation and learn how our experience can help you recover your investment losses. No recovery, no fee.
FINRA arbitration is a quicker, less formal, and less expensive alternative to litigation. It involves a panel of arbitrators who review the evidence and make a binding decision.
Investors can recover losses resulting from a wide range of broker misconduct, including unauthorized trading, misrepresentation, and forgery.
Investors do not need to prove intent or fraud, only that the broker's actions were inappropriate or negligent.
Protecting Investor Interests
The actions taken against Garraway underscore FINRA's commitment to protecting investors and maintaining the integrity of the securities industry. It is a reminder that brokers must adhere to the highest standards of professional conduct and that violations will not be tolerated.
Investors are encouraged to regularly review their account statements and to report any suspicious activity to their brokerage firm and to FINRA. By staying vigilant, investors can play an active role in safeguarding their investments and holding brokers accountable.