Investor sentiment in the United States was bearish on Friday after the release of a stronger-than-anticipated November jobs report prompted concerns that the Federal Reserve will continue to increase rates.
According to the report, the United States added 263,000 jobs last month, which was higher than predicted. In November, the unemployment rate remained unchanged at 3.7% despite the increased Fed rates.
This is starting to scare investors as they fear, rightly so, that the Fed may increase rates too much. As I have stated before, the Fed has a bad track record of starting recessions after rate hikes.
In a nutshell, the current labor demand exceeds the available workers' supply. Wage inflation is a direct result of this scenario. Bond yields in the United States went up once the news came out.
We are in a "ground hog day" of what happened for the last month or so regarding the Fed and economic news. Nothing has changed. The Fed would "like" to stop increasing rates but needs to see inflation go down more and higher unemployment.
Until then, investors can expect the Fed to talk "tough rates" and to the market to make some big swings. Good news will likely cause the markets to drop; bad news will cause the markets to go up.
Over in China, where zero-covid policies have dampened consumer and business confidence, the government appears ready to reverse course. It should be noted that the government is actively arresting covid protestors and limiting free speech. This may be a game-changer for the international economy, but it has yet to be shown. I think the Chinese government realizes the political risk of covid lockdowns is too much but won't admit it.
Calendar & Events
Monday, December 5: ISM Non-Manufacturing PMI (November)
Friday, December 9: PPI (MoM) (November)
Fed Talk
China Covid
After an OPEC+ meeting that starts this weekend, the energy market will be in the spotlight the following week. Investors will respond to the group's production plans update and consider the effects of EU sanctions on the purchase of Russia's seaborne crude exports and a possible G-7 price restriction on Russian oil.
Even though FOMC members in the U.S. will be silent as part of a blackout period leading up to the December 14-15 meeting, global central banks will also be in the limelight, with the Reserve Bank of Australia and the Bank of Canada both expected to hike interest rates. New York Fed President John Williams said in a recent Fedspeak update that he believes the FOMC still has some additional rate-hiking to do. Meanwhile, economists anticipate that Friday's robust employment report would lead some Fed officials to argue for a 75 basis point raise at the December meeting.
Earnings releases from Lululemon (NASDAQ: LULU), AutoZone (NYSE: AZO), and Costco (NASDAQ: COST) are among the week's most anticipated reports outside of the spotlight on oil and interest rates. Southwest Airlines (LUV), Glencore (OTCPK: GLCNF), and Norfolk Southern (NSC), and all have investor meetings this week.
BONDS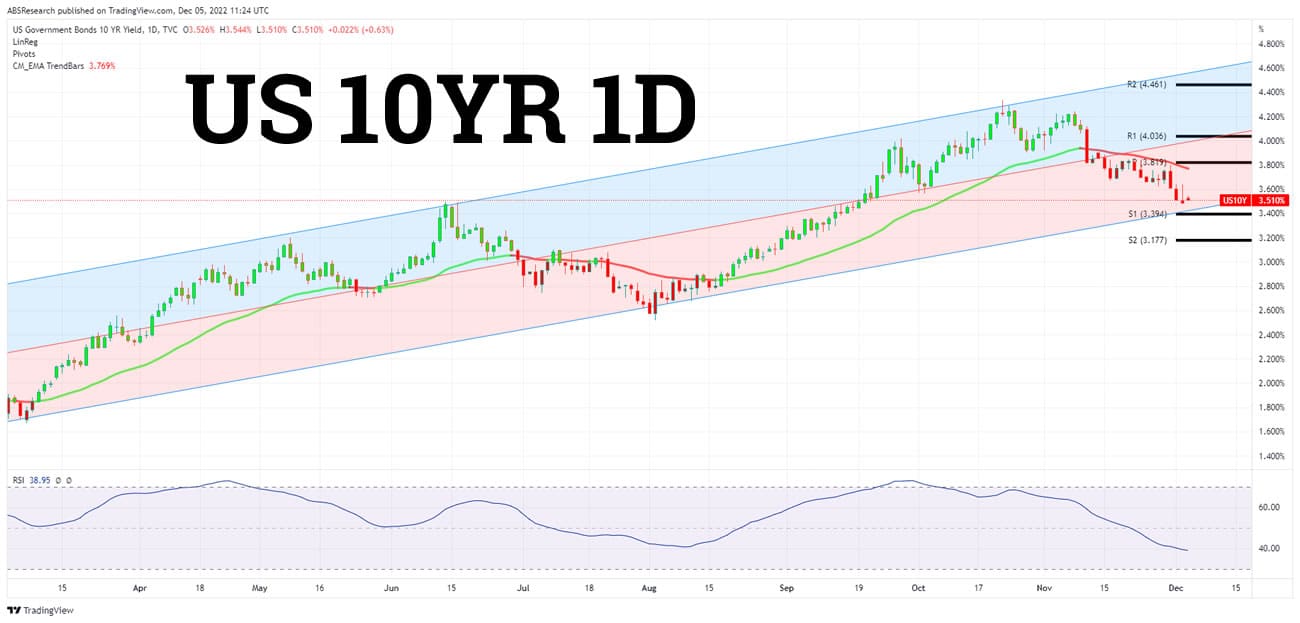 Friday's employment data showed a clear before and after. The benchmark ten-year U.S. government bond yield fell to 3.50 percent on Wednesday after Powell's speech, from 4.20 percent a month earlier, and it rallied on Friday to 3.57%.
The inverted rate slope indicates that investors continue to anticipate a recession. According to the FedWatch tool provided by CME, there is a 75% chance of a rate hike of 50 basis points on December 14 and a 25% chance of a rate hike of 75 basis points.
COMMODITIES
OIL & ENERGY
As a result of anticipation for an OPEC+ meeting that will take place virtually this weekend, oil prices are expected to close the week on a positive note. Due to low oil prices and a delayed economic recovery in China, the extended cartel may opt to go further in decreasing production.
Oil, currently trading at USD 87.7 for European Brent and USD 82 for US WTI, was bolstered by Jerome Powell's shift in tone, which paves the way for a halt in Fed rate hikes. On the natural gas side, prices rose to EUR 135/MWh for the Rotterdam TTF. The onset of consistently cold weather in Europe has increased the region's need for natural gas.
GOLD & PRECIOUS METALS
Investors in metals are keeping a close eye on China's loosening of Covid rules since that could lead to higher demand for industrial metals. Despite weak manufacturing PMI data on Wednesday, copper prices reached USD 8,300 on the LME, and aluminum reached USD 2,430. Gold's price kept up as it temporarily crossed the $1,800 mark per ounce.
CRYPTOCURRENCY
Bitcoin is up 3.15 percent this week, again toying with $17,000, a milestone in the cryptocurrency market. A weak and hesitant recovery that hasn't even come close to erasing the horrible week in early November, when bitcoin dropped 22% after the FTX collapse.
On the other hand, Ether is performing far better than the market leader by gaining 7% in value over the past week and returning to a level near $1300. Despite all this, faith in the crypto ecosystem is still quite fragile, and it will probably take a long way to win back crypto skeptics' hearts.
Free AlphaBetaStock's Cheat Sheet (No CC)!
+ Bonus Dividend Stock Picks