Investors who have suffered significant losses due to the alleged negligence and unsuitability of investments made by Glennon Cole, a former broker with Moloney Securities Co., Inc., may have a potential avenue for recovering their losses through FINRA arbitration.
Background
Cole, who was employed by Moloney Securities Co., Inc. from September 14, 2012, to February 8, 2021, is currently under scrutiny for a pending customer dispute. The claim, which was filed on July 10, 2023, alleges suitability/negligence regarding direct investments in DPP & LP interests made during the period of 2018 to 2020. The claimant is seeking damages of $150,000.
Previous Employment and Disputes
Prior to his tenure at Moloney Securities Co., Inc., Cole was employed by UBS PaineWebber Inc. from November 15, 2000, to January 14, 2003. It should be noted that this is not Cole's first customer dispute. According to BrokerCheck, there have been previous allegations against him during his career in the securities industry.
Investors' Recourse: FINRA Arbitration
Investors who have suffered losses due to broker misconduct may have a recourse through the Financial Industry Regulatory Authority (FINRA) arbitration process. This process is designed to provide a fair, efficient and cost-effective method for resolving disputes between investors and brokers.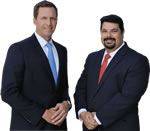 AD - Recover your investment losses! Haselkorn & Thibaut, P.A. is a national law firm that specializes in fighting ONLY on behalf of investors. With a 95% success rate, let us help you recover your investment losses today. Call now 1-888-784-3315 or visit InvestmentFraudLawyers.com to schedule a free consultation and learn how our experience can help you recover your investment losses. No recovery, no fee.
FINRA arbitration is less formal than litigation and is typically faster and less expensive.
The process involves a panel of arbitrators who listen to both sides of the dispute and then make a decision.
Once the decision is made, it is final and binding, meaning it cannot be appealed in court.
Investors can seek damages for their losses, and in some cases, may also be awarded attorney's fees and other costs.
Seeking Legal Advice
Investors who believe they have been victims of broker misconduct should seek legal advice as soon as possible. A lawyer who specializes in securities law can help investors understand their rights, evaluate their case, and guide them through the FINRA arbitration process.
In summary, while the allegations against Glennon Cole are still pending, investors who have suffered losses due to his alleged misconduct may be able to recover their losses through FINRA arbitration. As always, it is crucial for investors to conduct thorough research and seek professional advice before making investment decisions.