In a recent development, an investor has lodged a complaint against Robert Murphy, a representative of PRUCO SECURITIES, LLC, and currently working with LIFEMARK SECURITIES CORP. The dispute arises from a claim that the representative did not fully disclose all the facts regarding the Command account.
Details of the Dispute
The customer alleges that he was told his investment would double between 2017 and 2023. However, the reality of the situation seems to be quite different. This revelation raises serious questions about the transparency and integrity of the representative's advice.
Furthermore, the customer claims that the annuity he purchased did not include a spousal income rider, which was the most important aspect of the sale. This omission has resulted in a financial setback for the customer, amounting to a significant sum of $99,706.74718738.
Role of the Representative
Robert Murphy is not an investment advisor, but a broker. His role is to facilitate the buying and selling of financial products, like the Command Account and Annuity-Variable. It is crucial for brokers to provide accurate and complete information to the customers to make informed decisions.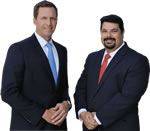 AD - Recover your investment losses! Haselkorn & Thibaut, P.A. is a national law firm that specializes in fighting ONLY on behalf of investors. With a 95% success rate, let us help you recover your investment losses today. Call now 1-888-784-3315 or visit InvestmentFraudLawyers.com to schedule a free consultation and learn how our experience can help you recover your investment losses. No recovery, no fee.
Command Account: This is a type of brokerage account that combines banking and investment services. The allegations suggest that the customer was not given a full understanding of this account.
Annuity-Variable: This is a contract by an insurance company that provides for payments to the holder at specified intervals, usually after retirement. The customer alleges that the annuity he bought did not include a spousal income rider, which was a critical requirement for him.
Recovering Losses with FINRA Arbitration
For investors who find themselves in such a predicament, there is a way to recover losses through the Financial Industry Regulatory Authority (FINRA) arbitration. FINRA is an independent, non-governmental organization that regulates member brokerage firms and exchange markets. It is the largest independent regulator for all securities firms doing business in the United States.
FINRA arbitration is a streamlined, less formal process than litigation, and it is typically faster and less expensive. It involves an impartial third party, known as an arbitrator, who listens to both sides of the dispute and makes a decision. Investors who have suffered losses due to broker misconduct can file a claim with FINRA to recover their losses.
In conclusion, this case underscores the importance of transparency and full disclosure in financial dealings. Investors must be provided with all the relevant information to make informed decisions about their investments. If you are an investor who has suffered losses due to broker misconduct, it is advisable to consider FINRA arbitration to recover your losses.