On July 21, 2023, a pending customer dispute was registered against Chuck Roberts, a broker and investment advisor affiliated with STIFEL, NICOLAUS & COMPANY, INCORPORATED. The claimants have alleged a series of financial misconducts, including the breach of fiduciary duty, negligence, fraud, and breach of contract. The investors have also claimed violations of the Florida Securities and Investor Protection Act.
Details of the Dispute
The claimants are seeking damages amounting to $1,000,000. The case, identified under the number 23-02031, involves equity listed (common and preferred stocks) and other structured notes. The dispute is currently pending and the final decision is yet to be reached.
Chuck Roberts has been associated with STIFEL, NICOLAUS & COMPANY, INCORPORATED since March 1, 2016. He also served as a broker for the same company from April 11, 2019, to the present.
Investors Recovery through FINRA Arbitration
Investors who have suffered financial losses due to broker misconduct have a legal avenue to recover their losses. The Financial Industry Regulatory Authority (FINRA) provides an arbitration platform where investors can file claims against brokers and brokerage firms. This process is often faster and less costly than traditional litigation.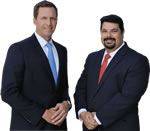 AD - Recover your investment losses! Haselkorn & Thibaut, P.A. is a national law firm that specializes in fighting ONLY on behalf of investors. With a 95% success rate, let us help you recover your investment losses today. Call now 1-888-784-3315 or visit InvestmentFraudLawyers.com to schedule a free consultation and learn how our experience can help you recover your investment losses. No recovery, no fee.
FINRA arbitration is a fair and efficient process to resolve investment disputes.
It involves a panel of impartial arbitrators who review the evidence and testimonies before making a decision.
The decision by the arbitrators is final and binding.
Investors who believe they have been wronged by their brokers have a right to seek justice. Whether the misconduct involves breach of fiduciary duty, negligence, or fraud, investors can recover their losses through the FINRA arbitration process.
Conclusion
Investors are reminded to regularly check their broker's records via the BrokerCheck tool provided by FINRA. This tool provides valuable information about a broker's employment history, regulatory actions, and investment-related licensing information, among other facts. In the case of Chuck Roberts, investors are encouraged to follow the ongoing case and seek legal counsel if they have suffered similar experiences.
The case against Chuck Roberts is a reminder of the importance of investor vigilance. It also underscores the crucial role that FINRA plays in protecting the rights of investors and maintaining the integrity of the financial markets.