S&P 500 (INDEXSP: .INX), the leading index of the American economy, continues its volatile trading trend within the primary downtrend and is trading at 2570.0. Pressure on the companies in the index continues to increase due to the financial losses and consumer confidence.
The shares of General Motors fell by more than 5% after U.S. President Donald Trump said that the company did not help enough Americans in the fight against COVID-19. Earlier, Ford was subjected to similar criticism of Trump, which turned into a 9% fall in the issuer.
S&P futures are higher this morning, up 8 to 9 points, as…
Dr. Anthony Fauci, the National Institute of Allergy and Infectious Diseases Director, warned the U.S. could see 100,000 to 200,000 coronavirus fatalities and millions of infections.
President Donald Trump said he expects the coronavirus outbreak to reach it's U.S. peak in roughly two weeks but would extend self-distancing guidelines until the end of April.
Treasury Secretary Steven Mnuchin said the White House is focused on getting money out quickly and expects to have the small business loan program "up and running" this week.
Among the biggest leaders are Extra Space Storage (NYSE: EXR), AvalonBay (NYSE: AVB), UDR (NYSE: UDR), Norwegian Cruise Line (NYSE: NCLH), Carnival (NYSE: CCL), and Apache (NYSE: APA) stand out in movements.
S&P 500 Support and Resistance
Last week, the price of the S&P 500 crossed the resistance line of the first stage of the global downtrend and reached the resistance line of the second stage. The Alligator indicator begins to narrow the range of EMA fluctuations, and the histogram of the A.O. oscillator confidently moves downwards to the zero line. The technical indicators suggest a possible reversal and continued global decline.
Resistance levels: 2640.0, 2900.0.
Support levels: 2480.0, 2270.0.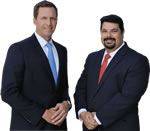 AD - Recover your investment losses! Haselkorn & Thibaut, P.A. is a national law firm that specializes in fighting ONLY on behalf of investors. With a 95% success rate, let us help you recover your investment losses today. Call now 1 888-628-5590 or visit InvestmentFraudLawyers.com to schedule a free consultation and learn how our experience can help you recover your investment losses. No recovery, no fee.
S&P 500 Bottomline
Although the S&P 500 is trading up this morning, it appears to be in a downtrend. The primary forces being the coronavirus and the losses related to it are not gone. The virus continues to grow at about 20% a day. Given the current growth rate, it will could be at 500k within two weeks.
European markets fell as…
Italy reported a drop in the number of new coronavirus deaths for the second straight day on Sunday as new cases remained below the March 21 peak for the seventh consecutive day.
Spain's Health Ministry said the coronavirus evolution has begun to stabilize and may soon start to fall.
The European Central Bank called on banks to cut dividends and share buybacks until the year's end to preserve cash to boost capital buffers against losses and continue lending.
Oil fell as almost 3.4 billion people worldwide have either been told or asked to follow confinement measures in an attempt to halt the virus spread.
Asian markets declined as…
The People's Bank of China added $7.1 billion worth of liquidity to the financial system and lowered the rate it charges banks for loans from 2.4% to 2.2%.
The Bank of Japan said it remains willing to ease capital requirements for financial institutions to allow them to participate in its market operations.
Australia announced an $80 billion stimulus program that would pay wage subsidies every two weeks to businesses that kept people employed.
Sovereign wealth funds from oil-rich nations are expected to sell as much as $75 billion worth of equity holdings over the coming months.
And ahead of…
German Preliminary CPI for March (8 a.m.)
Pending Home Sales for February (10 a.m.)
Dallas Fed Index for March (10 a.m.)