On July 27, 2023, the Financial Industry Regulatory Authority (FINRA) announced that Howard Rothman, previously affiliated with UBS Financial Services Inc. and J.P. Morgan Securities LLC, has consented to sanctions without admitting or denying the findings. The announcement comes after Rothman was found to have testified misleadingly about the creation of certain exhibits at a FINRA arbitration hearing.
Background of the Case
The findings stated that Rothman and several members of his team left their member firm to join a new firm. However, one member of Rothman's team who did not move to the new firm filed an employment-related arbitration claim with FINRA against Rothman and the others. The claim stemmed from their departure from the firm.
Details of the Sanctions
The sanctions against Rothman include:
A civil and administrative penalty fine of $5,000.
A suspension in all capacities for six months, starting from August 21, 2023, and ending on February 20, 2024.
The sanctions were part of the Acceptance, Waiver & Consent (AWC) agreement with FINRA.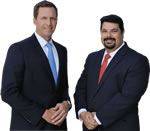 AD - Recover your investment losses! Haselkorn & Thibaut, P.A. is a national law firm that specializes in fighting ONLY on behalf of investors. With a 95% success rate, let us help you recover your investment losses today. Call now 1-888-784-3315 or visit InvestmentFraudLawyers.com to schedule a free consultation and learn how our experience can help you recover your investment losses. No recovery, no fee.
Investors Recovering Losses with FINRA Arbitration
Investors who have suffered financial losses due to the misconduct of brokers or brokerage firms have the right to seek recovery through FINRA arbitration. This process is designed to provide a fair, efficient and cost-effective method for investors to resolve disputes.
Arbitration is often faster and less expensive than litigation, and it allows investors to recover their losses without the need for a lengthy court trial. The process involves presenting the case to a panel of arbitrators who then make a binding decision.
Investors considering arbitration should consult with an experienced securities arbitration attorney to understand their rights and the potential benefits of pursuing an arbitration claim.
It is crucial to remember that while FINRA can impose sanctions and fines on brokers and firms, it does not directly compensate investors for their losses. Therefore, investors must take the initiative to recover their losses through the arbitration process.
Investors can check the background of brokers and brokerage firms on FINRA's BrokerCheck website. This tool provides information about a broker's employment history, regulatory actions, and investment-related licensing information, arbitrations, and complaints.
In conclusion, the case of Howard Rothman highlights the importance of investor vigilance and the value of FINRA arbitration as a recourse for investors who have suffered losses due to broker misconduct.