Today, the Securities and Exchange Commission (SEC) has dropped a bombshell, revealing settled fraud charges against Chad Stickforth, the former managing director of RSF Capital, LP. But what exactly did Stickforth do? And what does this mean for the world of investment?
SEC's Complaint Against Chad Stickforth
The SEC's complaint, filed in a federal district court in Colorado, paints a picture of financial misconduct that would make any investor's blood run cold. Between December 2016 and September 2021, Stickforth, through RSF, allegedly raised approximately $5.4 million from twenty investors. How did he convince them to part with their hard-earned money? He promised that RSF would use their money to trade futures contracts, commodity interests, and options on their behalf.
But here's the kicker: the complaint alleges that Stickforth only used a small portion of the investors' money to trade. So, where did the rest of the money go? According to the SEC, Stickforth misappropriated or otherwise misused most of the investors' funds for personal expenses, payments to his business partner, and Ponzi-like payments to investors to keep up the appearance of profitable trading. It's like a magician's trick, where the rabbit never really disappears—it just ends up in the magician's pocket.
Stickforth's Response and Settlement
Without admitting or denying the SEC's allegations, Stickforth has agreed to a final judgment that could be likened to a financial straightjacket. It would permanently prevent him from violating the anti-fraud provisions of various acts, impose a permanent officer-and-director bar, and order him to pay $1,546,197 in disgorgement, prejudgment interest, and a civil penalty of $223,229. However, this settlement is subject to court approval.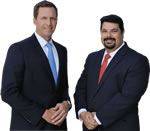 AD - Recover your investment losses! Haselkorn & Thibaut, P.A. is a national law firm that specializes in fighting ONLY on behalf of investors. With a 95% success rate, let us help you recover your investment losses today. Call now 1-888-784-3315 or visit InvestmentFraudLawyers.com to schedule a free consultation and learn how our experience can help you recover your investment losses. No recovery, no fee.
The Investigation Team
The SEC's investigation was conducted by a team of financial detectives: John Dwyer, Yamini Piplani Grema, and Daniel Konosky, with the assistance of Terry Miller and Gregory Kasper. The investigation was supervised by Danielle R. Voorhees, Nicholas P. Heinke, and Jason J. Burt, all of the SEC's Denver Regional Office.
This case serves as a stark reminder of the potential pitfalls in the world of investment. It's a jungle out there, and investors must always be on their guard. After all, not every financial magician can be trusted with your rabbit.