What happens in a world of data as the new gold when someone tries faking it? The Securities and Exchange Commission, or SEC, has recently charged Olivier Amar (former Chief Growth Officer at Frank) with fraud in relation to the $175 Million sale of Frank in 2021 to JPMorgan Chase Bank N.A. This charge is in addition to those previously filed against Charlie Javice (founder and former CEO) for the same scam.
They allegedly led JPMC to think that Frank had valuable data about 4,25 millions students who used Frank's service. What is the twist to this story? The real number was less that 300,000. It's the same as buying a beautiful painting only to discover that it is a clever fake.
The SEC's amended complaint reads like a detective story, shedding some light on the murky business of corporate fraud. Amar allegedly directed an employee of Frank engineering to create a fake, "synthetic" Frank acquired data from visitors to his website. It was to satisfy a request by JPMC for Frank to evaluate his own user data prior to the acquisition.
Imagine you were asked to fabricate all of your qualifications, not just a few embellishments. Amar asked his employee allegedly to inflate their resume with entirely false qualifications. Amar and Javice allegedly coordinated a plan to get data from other sources when the employee refused.
Javice, allegedly, paid a data scientist professor to produce the data needed to close the deal. Amar negotiated with a third-party data compiler to procure data on 4.5 millions students for $105,000. The data was allegedly then passed off to JPMC as actual customers when they inquired about it after the acquisition.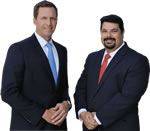 AD - Recover your investment losses! Haselkorn & Thibaut, P.A. is a national law firm that specializes in fighting ONLY on behalf of investors. With a 95% success rate, let us help you recover your investment losses today. Call now 1-888-784-3315 or visit InvestmentFraudLawyers.com to schedule a free consultation and learn how our experience can help you recover your investment losses. No recovery, no fee.
In the amended complaint filed with the U.S. District Court of New York's Southern District, Amar is accused of violating Section 17(a), paragraphs (1) and (3) of Securities Act of 1933, Section 10(b), Securities Exchange Act of 1933, and Rules 10b-5 (a) and c) thereof. Amar has also been charged with aiding Javice to violate these provisions.
Wesley Wintermyer of the New York Regional Office conducted the SEC investigation. Tejal Shah supervises Mr. Wintermyer, Daniel Loss in the litigation. The SEC thanks the U.S. Attorney's Office of the Southern District of New York for its assistance in announcing parallel criminal charges.
The story ends with a warning that, in the world data, all is not as it seems. gold. This raises serious questions about data integrity and how far some people are willing to go to deceive other people. The investigation continues and we wonder: how many cases are there like this, waiting to come to light?