The Securities and Exchange Commission (SEC) has charged Brent Seaman and several entities he managed with fraud, accusing them of raising around $35 million from at least 60 investors through an unregistered securities offering. Many of the investors were elderly, retired, and members of a church in Naples, Florida where Seaman was an active participant. The SEC alleges that Seaman falsely promised high returns on investments, misappropriated funds for personal use, and operated a Ponzi-like scheme.
SEC Charges Florida Man in $35 Million Ponzi Scheme Targeting Church Members
The Securities and Exchange Commission (SEC) has filed charges against Brent Seaman of Naples, Florida, and his associated entities for allegedly operating a $35 million Ponzi scheme. The scheme primarily targeted elderly and retired members of a local church where Seaman was an active participant.
Seaman's Promises of High Returns
According to the SEC's complaint, from June 2019 to September 2022, Seaman promised investors that their money would be used to invest in technology companies and trade currencies and commodities. He assured them of annual returns between 18 and 48 percent, labeling the investments as "safe" and the returns as "guaranteed."
However, the SEC alleges that Seaman was not successful in currency trading as he claimed, but instead was losing millions of investors' money. It's also alleged that Seaman misappropriated funds for personal use, including buying luxury cars and private plane trips.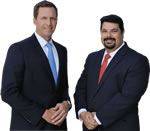 AD - Recover your investment losses! Haselkorn & Thibaut, P.A. is a national law firm that specializes in fighting ONLY on behalf of investors. With a 95% success rate, let us help you recover your investment losses today. Call now 1-888-784-3315 or visit InvestmentFraudLawyers.com to schedule a free consultation and learn how our experience can help you recover your investment losses. No recovery, no fee.
Charges Filed
The SEC's complaint charges Seaman and his entities, including Accanito Holdings, LLC and its subsidiaries, with violating the Securities Act of 1933 and the Securities Exchange Act of 1934. Seaman's wife, Jana Seaman, and two affiliated entities are also named as relief defendants.
Implications for Investors
This case raises important questions for investors. How can we ensure our investments are safe? How can we avoid falling prey to Ponzi schemes?
The SEC encourages investors to research thoroughly before investing and to be wary of investments promising high returns with little risk.
Investment Ideas
In light of this case, it's recommended that investors diversify their portfolios and consider investing in established, reputable companies or index funds. It's also suggested to use a reputable broker or financial advisor to help guide investment decisions.
Settlement and Penalties
All defendants have agreed to a bifurcated settlement without admitting or denying the allegations. If approved by the court, they will be barred from violating federal securities laws, and Seaman will be prohibited from serving as an officer or director of any SEC-reporting company. The court will also determine whether the defendants should pay disgorgement with prejudgment interest and a civil penalty.
Why This Matters
This case serves as a stark reminder of the dangers of investment fraud. It underscores the importance of investor vigilance and the critical role of the SEC in protecting investors from fraudulent schemes.
Investors, remember to always do your due diligence before investing your hard-earned money. Stay informed, stay safe.