Investors can suffer losses for a variety of reasons, including market volatility or broker misconduct. Investors can recover their losses by using arbitration through the Financial Industry Regulatory Authority. FINRA is a non-governmental organisation that regulates member brokerages and exchange markets.
Understanding FINRA Arbitration
FINRA Arbitration is a faster, less formal dispute resolution than traditional litigation. Arbitration involves a neutral, third-party, called an arbitrator who listens to the two sides and then makes a final decision. Arbitrator's decisions are final and binding. Arbitration is less expensive and more confidential than court litigation, which is why many investors and brokers prefer it. On their website, you can find out more about FINRA's arbitration process. here.
Recovering losses through FINRA arbitration
Investors that have suffered losses because of broker misconduct (such as misrepresentation), unsuitable investment, churning or negligence) can submit a claim to FINRA. The arbitration claim will detail the allegations made, the amount of damages requested, as well as any evidence that supports the claim.
The filing of a claim and the payment of a filing fee initiates the arbitration process. The respondent has 45 calendar days to respond. Arbitrator can decide based on evidence if respondent doesn't respond.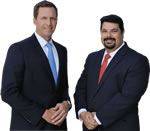 AD - Recover your investment losses! Haselkorn & Thibaut, P.A. is a national law firm that specializes in fighting ONLY on behalf of investors. With a 95% success rate, let us help you recover your investment losses today. Call now 1-888-784-3315 or visit InvestmentFraudLawyers.com to schedule a free consultation and learn how our experience can help you recover your investment losses. No recovery, no fee.
The discovery process starts after the respondent replies. This is where both parties share information about the dispute. After the discovery process, both parties are required to present their arguments. An award is then made by the arbitrator. The award will include the decision, the settlement amount if applicable, and details of the payout.
What to expect from an Arbitration Award
Both parties are bound by the arbitration award. If the investor wins, the broker or firm must pay out the award within 30 calendar days. If the award has not been paid, FINRA could take enforcement action against the broker or brokerage firm, which can include banning them from the industry.
You should be aware that not all losses can be recovered through FINRA arbitrage. Arbitrators can decide on the amount awarded. It may be less than requested. Investors need to be aware that arbitration doesn't guarantee a favorable result and the risk of not recovering losses is present.
Investors considering FINRA Arbitration should seek legal counsel to fully understand their rights, and the potential outcomes. FINRA arbitration is an effective tool to help investors recover losses and hold brokers responsible for their actions.