The financial industry is currently buzzing with news of a customer dispute involving Peter Po of NI ADVISORS (CRD 134502). The allegations being levelled against him are grave, including breach of contract, breach of fiduciary duty, failure to supervise, misrepresentations and omissions, and violation of rules and laws.
The Allegations
The dispute arises from the bond issuing company declaring bankruptcy, which has led to the illiquidity of the holdings until the bankruptcy is resolved. The bonds in question were purchased between the years 2018 and 2021. The amount involved in the dispute is a staggering $1,300,000.00.
Peter Po has been associated with NI ADVISORS since August 2015, serving both as a broker and an investment advisor. He is currently under scrutiny for his alleged failure to adequately supervise the transactions and his alleged misrepresentations and omissions.
Investors Recovering Losses
In light of the allegations, investors who have suffered losses due to the illiquidity of the bonds are seeking to recover their losses through the Financial Industry Regulatory Authority (FINRA) arbitration. FINRA arbitration is a quicker, less formal, and less expensive way to resolve disputes between investors and brokers or brokerage firms.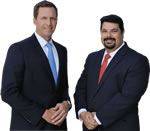 AD - Recover your investment losses! Haselkorn & Thibaut, P.A. is a national law firm that specializes in fighting ONLY on behalf of investors. With a 95% success rate, let us help you recover your investment losses today. Call now 1-888-784-3315 or visit InvestmentFraudLawyers.com to schedule a free consultation and learn how our experience can help you recover your investment losses. No recovery, no fee.
FINRA arbitration is an alternative to litigation and can be a more efficient way to resolve disputes. It is conducted by a neutral third party and the decision is final and binding.
Investors can file a claim with FINRA within six years from the occurrence of the event or dispute. The process includes a hearing where both parties can present their case.
Recovery of losses through FINRA arbitration can include compensatory damages, interest, costs, and attorney's fees. In some cases, punitive damages may also be awarded.
Protecting Investor's Rights
Investors have the right to full disclosure about the investments they are making. Brokers and investment advisors are obligated to provide accurate and complete information about the investments and to supervise transactions properly. Failure to do so can result in severe penalties, including financial restitution to the investors affected.
The allegations against Peter Po and NI ADVISORS highlight the importance of these protections. Investors who believe they have been misled or that their investments have been mishandled should consider seeking legal advice and possibly pursuing a claim through FINRA arbitration.
While the allegations against Peter Po and NI ADVISORS are still under investigation, it serves as a reminder for investors to remain vigilant and informed about their investments and the firms and individuals they entrust with their money.