In the rapidly evolving world of finance, a recent issue has come to light involving Joseph Latour, a registered representative with CENTER STREET SECURITIES, INC and LATOUR ASSET MANAGEMENT LLC. The client in question has alleged that Latour recommended an unsuitable investment, leading to a significant loss of $100,000. This case is currently under review with the file number 23-01830N1010N.
Investment Suitability and the Role of Brokers
Investment suitability is a fundamental principle in the realm of finance. Brokers, such as Joseph Latour, are required to recommend investments that align with the client's financial situation, risk tolerance, and investment objectives. In this case, the client alleges that this principle was violated, leading to a substantial financial loss.
Details of the Dispute
The client lodged a complaint on 7/6/2023, alleging that the investment recommended by Latour was unsuitable. The investment in question falls under the category of "Alternatives". The exact nature of this investment has not been disclosed. The dispute is currently pending and the claimed loss is $100,000.
Joseph Latour and his Affiliations
Joseph Latour has been a registered representative with CENTER STREET SECURITIES, INC (CRD 26898) since 10/10/2012. He is also affiliated with LATOUR ASSET MANAGEMENT LLC (CRD 172461) since 09/10/2014. Both roles of broker and investment advisor are currently active.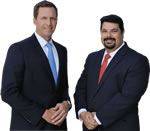 AD - Recover your investment losses! Haselkorn & Thibaut, P.A. is a national law firm that specializes in fighting ONLY on behalf of investors. With a 95% success rate, let us help you recover your investment losses today. Call now 1-888-784-3315 or visit InvestmentFraudLawyers.com to schedule a free consultation and learn how our experience can help you recover your investment losses. No recovery, no fee.
Recovering Losses with Finra Arbitration
For investors who find themselves in a similar situation, there is a potential avenue for recovering losses – FINRA arbitration. The Financial Industry Regulatory Authority (FINRA) operates the largest securities dispute resolution forum in the United States.
FINRA arbitration is a faster and less expensive alternative to litigation.
It involves a panel of arbitrators who listen to both parties, review evidence, and then make a decision.
If the decision is in favor of the investor, the broker and their firm may be required to compensate for the losses and pay damages.
It's important to note that not all losses are eligible for recovery. The investment must have been unsuitable, and the broker must have failed in their duty to recommend suitable investments. In the case of Joseph Latour, these are the allegations that are currently under investigation.
Final Thoughts
Investors entrust their hard-earned money to brokers and investment advisors, expecting them to act in their best interest. When this trust is violated, it's crucial that investors know their rights and the avenues available for recovering their losses. The case of Joseph Latour and his client serves as a reminder of the importance of suitability in investment recommendations and the role of FINRA arbitration in resolving disputes.