Investment advisory services are a crucial part of the financial market, and their credibility rests heavily on their adherence to established regulations. One such case, that has recently come to light, involves a Florida-based investment advisor, Eric Thompson, who was found to be providing investment advice without being registered with the Office.
Thompson, who is associated with PRUCO SECURITIES, LLC. and PRUDENTIAL FINANCIAL PLANNING SERVICES, was found guilty of this regulatory violation on May 23, 2023. The Florida Office of Financial Regulation issued an order against him, imposing sanctions that included a cease and desist order and a civil and administrative penalty amounting to $6,000.00.
Unregistered Investment Advisory Services
According to the BrokerCheck record, Thompson has been associated with PRUCO SECURITIES, LLC. (CRD 5685) since February 6, 2006, and PRUDENTIAL FINANCIAL PLANNING SERVICES (CRD 5685) since March 21, 2006. Despite his long tenure with these firms, he failed to register with the Office, leading to his current predicament.
Investment advisors are obligated to register with the regulatory authorities to ensure that they adhere to the prescribed standards and guidelines. This oversight provides a safeguard for investors, ensuring that they are dealing with credible and reliable advisors.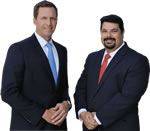 AD - Recover your investment losses! Haselkorn & Thibaut, P.A. is a national law firm that specializes in fighting ONLY on behalf of investors. With a 95% success rate, let us help you recover your investment losses today. Call now 1-888-784-3315 or visit InvestmentFraudLawyers.com to schedule a free consultation and learn how our experience can help you recover your investment losses. No recovery, no fee.
FINRA's Role in Regulatory Compliance
The Financial Industry Regulatory Authority (FINRA) is a non-governmental organization that regulates member brokerage firms and exchange markets. It is committed to ensuring the integrity of the financial markets and protecting investors. More information about FINRA can be found on their website.
FINRA also provides a platform, BrokerCheck, for investors to research the professional backgrounds of brokers and brokerage firms, as well as investment advisor firms and advisors. Thompson's violation was recorded on this platform, alerting potential and current investors to his regulatory breach.
Investors Recovering Losses with FINRA Arbitration
Investors who have suffered losses due to the actions of brokers or advisors like Thompson have a recourse to recover their losses. The FINRA arbitration process is a streamlined and less formal alternative to litigation that allows investors to resolve disputes.
Through this process, investors can file a claim against the broker or advisor, detailing the dispute and the desired remedy. The arbitration panel, comprising of one to three arbitrators, then reviews the case and makes a decision. If the decision is in favor of the investor, the broker or advisor is obligated to pay the awarded amount.
In conclusion, while the financial market can be a complex landscape, regulatory bodies like FINRA and the Florida Office of Financial Regulation work to ensure the integrity of the system and protect investors. It is crucial for investors to conduct due diligence and utilize resources like BrokerCheck to avoid falling prey to unregistered or unscrupulous advisors.