In a recent development, an investor has filed a customer dispute against Enrique Pascual, a broker currently associated with Stonecrest Capital Markets, Inc. According to the details of the dispute, the client alleges that he was ill-advised by Pascual to sell his Puerto Rico (PR) bond investments to cover margin calls that occurred from September 2013 to February 2014.
The customer's allegations involve a substantial sum of $425,708.35. The dispute, filed on April 26, 2023, is currently pending. Enrique Pascual, who has been registered with Stonecrest Capital Markets since May 15, 2019, was previously associated with Herbert J. Sims & Co., Inc.
What is a Margin Call?
A margin call is a broker's demand on an investor using margin to deposit additional money or securities so that the margin account is brought up to the minimum maintenance margin. This situation often occurs when one's account value has fallen below the broker's required minimum value. If the investor does not fulfill the margin call, the broker may sell the securities without notifying the investor.
FINRA's Role in Investor Protection
The Financial Industry Regulatory Authority (FINRA) is a non-governmental organization that regulates member brokerage firms and exchange markets in the United States. It is committed to ensuring the fairness and integrity of the securities industry, protecting investors, and preventing securities fraud.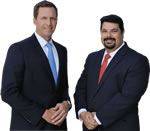 AD - Recover your investment losses! Haselkorn & Thibaut, P.A. is a national law firm that specializes in fighting ONLY on behalf of investors. With a 95% success rate, let us help you recover your investment losses today. Call now 1-888-784-3315 or visit InvestmentFraudLawyers.com to schedule a free consultation and learn how our experience can help you recover your investment losses. No recovery, no fee.
Investors who believe they have been wronged by their broker can file a complaint with FINRA. The organization offers dispute resolution services, which include arbitration and mediation, to assist in resolving monetary and business disputes between and among investors, brokerage firms, and individual brokers.
Recovering Losses with FINRA Arbitration
FINRA arbitration is a faster, less expensive, and less complex way for investors to resolve disputes. If an investor has a dispute involving the business activities of a broker-dealer, the investor may file a claim with FINRA. The organization will then arbitrate the dispute.
During the arbitration process, all parties involved in the dispute present their case to a panel of impartial arbitrators. The arbitrators then review the evidence, listen to the testimony, and make a decision. If the panel decides in favor of the investor, the broker or brokerage firm is required to compensate the investor.
It's important to note that investors must file a claim within six years from the event or occurrence giving rise to the claim. Claims filed beyond this time limit may not be eligible for arbitration. Therefore, investors who believe they have a claim should act promptly.
Investors who have suffered losses due to alleged broker misconduct, such as the case with Enrique Pascual, are encouraged to contact FINRA and explore the possibility of recovering their losses through the arbitration process.