In a recent development, a customer has lodged a dispute alleging that the early withdrawal penalty associated with her annuity contract was never discussed or disclosed. The customer is seeking a refund of $16,000 in connection with this claim. The case involves Douglas Bauerband, a representative of TFS Securities, Inc. and Gradient Securities, LLC between January and July 2023, and currently associated with G. Douglas Wealth Management since July 10, 2023.
Details of the Dispute
The customer's grievance centers around her belief that she was not informed about the early withdrawal penalty tied to her annuity contract. However, Bauerband has categorically denied these allegations, labeling them as fraudulent. He provided the following points in his defense:
The customer claimed that Bauerband was in her apartment, a claim he strongly denies, asserting that he never stepped foot in her apartment.
She also accused him of using his position on the board to coerce her into buying a policy. Bauerband, who has been on the board for 25 years, vehemently denies this, stating that he has never used his position to his advantage or as an incentive for anyone to buy a policy. He further adds that he has 15 board members ready to testify to this.
The customer alleges that she expressed her unwillingness to proceed with the policy. However, Bauerband says they have proof of a Comcast telephone call in which she stated her desire to go ahead with the policy. He also mentions evidence showing that she needed her Social Security for the rent every month, which contradicts her claim.
Investors Recovering Losses with Finra Arbitration
While the aforementioned case is still pending, it's important to note that investors have a viable avenue for recovering losses through Finra arbitration. The Financial Industry Regulatory Authority (Finra) provides an arbitration forum for investors to resolve disputes with their brokers or brokerage firms. Through this process, investors can potentially recover losses resulting from broker misconduct, such as unauthorized trading, misrepresentation, or failure to disclose information.
Finra arbitration is generally quicker and less formal than court proceedings, providing a cost-effective and efficient means for investors to seek justice. It's crucial for investors to understand their rights and the process involved in Finra arbitration to ensure they are adequately represented and their interests are protected.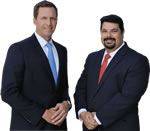 AD - Recover your investment losses! Haselkorn & Thibaut, P.A. is a national law firm that specializes in fighting ONLY on behalf of investors. With a 95% success rate, let us help you recover your investment losses today. Call now 1-888-784-3315 or visit InvestmentFraudLawyers.com to schedule a free consultation and learn how our experience can help you recover your investment losses. No recovery, no fee.
The case involving Douglas Bauerband serves as a reminder to investors to stay vigilant and informed about their investments. It also underscores the importance of open communication and full disclosure between brokers and their clients to avoid disputes and potential losses.
For more information about Finra arbitration and how to recover investment losses, investors are encouraged to visit the Finra website or consult with a financial advisor or attorney experienced in securities arbitration.