On the 20th of July, 2023, a customer dispute was filed against Registered Representative Donna Seymour of CENTAURUS FINANCIAL, INC. The claimants, who are customers of the firm, allege that Seymour recommended an unsuitable, complex, high-risk, illiquid, and high yield investment. The customers are seeking damages of $100,000. However, no specific dates for the alleged activity were identified in their Statement of Claim.
Seymour, who has been with CENTAURUS FINANCIAL, INC. since July 27, 2016, and also with INGRAM ADVISORY SERVICES, LLC since September 15, 2009, vehemently denies any wrongdoing. She asserts that the allegations are completely without merit.
Donna Seymour's Response to the Allegations
In her defense, Seymour states that the investments about which the customers complained were suitable and were recommended based on the customer's objectives, goals, and financial circumstances. They were offered only after the customers' review of all material documentation related to the investment.
She further adds that the customers confirmed in writing that they not only received the requisite investment documentation/disclosures but that they fully understood the characteristics and risks of the investments. Seymour maintains that at all times, she put the customer's interest first and she will vigorously defend this matter to the fullest extent of the law.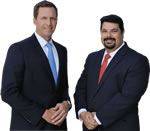 AD - Recover your investment losses! Haselkorn & Thibaut, P.A. is a national law firm that specializes in fighting ONLY on behalf of investors. With a 95% success rate, let us help you recover your investment losses today. Call now 1-888-784-3315 or visit InvestmentFraudLawyers.com to schedule a free consultation and learn how our experience can help you recover your investment losses. No recovery, no fee.
Investors Recovering Losses with Finra Arbitration
For investors who have experienced similar situations, there is a path to recovering losses. The Financial Industry Regulatory Authority (FINRA) offers arbitration services to resolve disputes between customers and their brokers or brokerage firms.
FINRA arbitration is a quicker, simpler, and less expensive process than litigation.
It is a fair and efficient process, handled by a panel of arbitrators who are knowledgeable in securities and investment disputes.
Most importantly, it can help investors recover losses resulting from broker misconduct.
Investors should be aware that FINRA arbitration is a legal process and it is advisable to seek legal representation. A skilled securities arbitration lawyer can guide investors through the process, present their case effectively, and help them recover their losses.
In Conclusion
While the allegations against Seymour are yet to be proved, it is essential for investors to understand their rights and the mechanisms in place to protect them. Whether through FINRA arbitration or other legal avenues, investors have options to recover losses due to broker misconduct. As always, investors should thoroughly review all investment documentation and understand the risks involved before making investment decisions.