On July 20, 2023, a client filed a dispute against Rene' Espinoza, a broker affiliated with AMERIPRISE FINANCIAL SERVICES, LLC. The client alleges that the advisor misrepresented material information about her variable annuity, leading to a loss of $13,871.90.
Details of the Dispute
The customer dispute, currently pending, involves a variable annuity product. The client claims that Espinoza, who is not an investment advisor, provided misleading information regarding this financial product. The client is now seeking to recover the lost amount through the dispute resolution process.
Rene' Espinoza has been registered with AMERIPRISE FINANCIAL SERVICES, LLC (CRD 6363) since July 21, 2011. Prior to this, he was affiliated with MERRILL LYNCH, PIERCE, FENNER & SMITH INCORPORATED (CRD 7691) from August 3, 2010, to August 11, 2011.
Investors Recovering Losses with FINRA Arbitration
Investors who have suffered financial losses due to the misconduct or negligence of their brokers or advisors have the right to seek compensation. One of the most effective ways to recover these losses is through FINRA arbitration.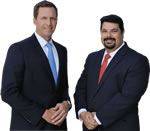 AD - Recover your investment losses! Haselkorn & Thibaut, P.A. is a national law firm that specializes in fighting ONLY on behalf of investors. With a 95% success rate, let us help you recover your investment losses today. Call now 1-888-784-3315 or visit InvestmentFraudLawyers.com to schedule a free consultation and learn how our experience can help you recover your investment losses. No recovery, no fee.
FINRA arbitration is a simplified, streamlined process designed to resolve disputes between investors and their brokers or advisors. It is faster and less formal than court proceedings, with a decision typically rendered within 12 to 18 months.
Investors can file a claim for damages, which may include lost investment amounts, interest, and sometimes, legal fees.
Arbitration decisions are final and binding, with very limited rights to appeal.
Investors who believe they have been misled or wronged by their broker or advisor should consider seeking legal advice to explore their options for recovery through FINRA arbitration.
Final Remarks
It is essential for investors to understand the nature and risks associated with the financial products they invest in. Brokers and advisors have a duty to provide accurate, clear, and complete information about these products. When they fail to do so, they can be held accountable through mechanisms like FINRA arbitration.
This case serves as a reminder of the importance of diligence and transparency in the financial services industry. Investors are encouraged to regularly review their portfolio and seek professional advice if they suspect any irregularities or misconduct.