Investors Alleging Unsuitable Investments Against Kevin Canterbury
In the ever-evolving world of finance, it is imperative to keep a close eye on the actions of financial advisors and brokers. One such individual currently under scrutiny is Kevin Canterbury, a broker previously associated with Coastal Equities, Inc. and currently with CS Planning Corp.
Details of the Dispute
On July 21, 2023, a pending customer dispute was filed against Canterbury. The claimants alleged that Canterbury had made unsuitable investments on their behalf, causing significant financial harm. The claimants are seeking damages amounting to $100,000. The case, filed under the number 23-02002N1110N, is currently under review on BrokerCheck.
During his tenure at Coastal Equities, Inc., from September 26, 2012, to August 27, 2020, Canterbury specialized in Direct Investment-DPP & LP Interests. Since November 12, 2020, he has been associated with CS Planning Corp.
Investors Recovering Losses through FINRA Arbitration
For investors who find themselves in a similar situation, the Financial Industry Regulatory Authority (FINRA) arbitration process offers a viable means of recovering losses. This process is designed to provide a fair, efficient and effective way for investors to resolve disputes with brokers and brokerage firms.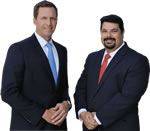 AD - Recover your investment losses! Haselkorn & Thibaut, P.A. is a national law firm that specializes in fighting ONLY on behalf of investors. With a 95% success rate, let us help you recover your investment losses today. Call now 1-888-784-3315 or visit InvestmentFraudLawyers.com to schedule a free consultation and learn how our experience can help you recover your investment losses. No recovery, no fee.
Here are some key points about the FINRA arbitration process:
Efficient and Cost-Effective: Compared to traditional litigation, FINRA arbitration is often quicker and less expensive.
Neutral and Fair: The process is overseen by a panel of arbitrators who are not affiliated with the securities industry. This ensures a fair hearing for all parties involved.
Binding Decisions: Decisions made by the arbitration panel are final and binding, with very limited rights to appeal.
Protecting Investor Interests
The actions of brokers like Kevin Canterbury serve as a reminder of the importance of investor vigilance. It is crucial that investors thoroughly vet their brokers and financial advisors and monitor their investments regularly.
Investors who believe they have been victims of unsuitable investments or other forms of broker misconduct should consider seeking legal advice. The FINRA arbitration process can provide a valuable avenue for recovering losses and holding brokers accountable for their actions.
In conclusion, the case against Kevin Canterbury underscores the importance of investor vigilance and the potential for recovery through the FINRA arbitration process. As the case progresses, it will be interesting to see how the dispute unfolds and what it means for future regulatory action within the industry.