In a recent development, a variable index annuity client has raised a dispute alleging that the product was misrepresented at the time of purchase. This dispute involves a sum of $5,000 and has been filed against Christopher Rhyne, a broker and investment advisor associated with WOODBURY FINANCIAL SERVICES, INC. (CRD 421).
Background of the Dispute
The client, whose identity remains undisclosed, claims that the variable index annuity, which is a type of investment product, was not accurately represented at the time of the transaction. This alleged misrepresentation led the client to believe that the product would serve their financial interests better than it did. The transaction took place while Christopher Rhyne was working with WOODBURY FINANCIAL SERVICES, INC., a company he has been associated with since October 14, 2016.
Details of the Case
The details of the case are as follows:
File Number: 4524132
Associated Broker: Christopher Rhyne
Associated Company: WOODBURY FINANCIAL SERVICES, INC.
Allegation: Misrepresentation of a variable index annuity at the time of purchase
Disputed Amount: $5,000
Recovering Losses with FINRA Arbitration
Investors who believe they have been misled or suffered losses due to broker misconduct have a recourse in the form of FINRA arbitration. The Financial Industry Regulatory Authority (FINRA) offers a platform for dispute resolution between investors and brokers or brokerage firms. Through the arbitration process, investors can seek to recover their losses.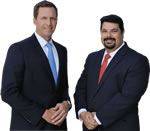 AD - Recover your investment losses! Haselkorn & Thibaut, P.A. is a national law firm that specializes in fighting ONLY on behalf of investors. With a 95% success rate, let us help you recover your investment losses today. Call now 1-888-784-3315 or visit InvestmentFraudLawyers.com to schedule a free consultation and learn how our experience can help you recover your investment losses. No recovery, no fee.
If you have suffered financial losses due to the actions of a broker or brokerage firm, you may be entitled to compensation. It's important to consult with a securities arbitration lawyer who can guide you through the FINRA arbitration process.
Importance of BrokerCheck
Before engaging with a broker or an investment advisor, investors are advised to use FINRA's BrokerCheck. This free tool allows you to research the professional backgrounds of brokers and brokerage firms, as well as investment advisor firms and advisors. BrokerCheck can provide critical information, including a broker's employment history, certifications, and any regulatory actions or disputes associated with them.
In conclusion, while investing can be a lucrative activity, it's crucial for investors to be aware of the risks involved and to ensure they are dealing with reputable and transparent brokers and advisors. Investors should also remember that they have rights and recourses available to them, including the ability to recover losses through FINRA arbitration.