The world of finance is never short of controversies and disputes. In the latest development, a customer has lodged a dispute against UBS FINANCIAL SERVICES INC. (CRD 8174), alleging unsuitability and misrepresentation with respect to recommendations to invest in and hold an options overlay strategy. The allegations are serious and could potentially have significant implications for the involved parties.
Allegations Against UBS FINANCIAL SERVICES INC.
The dispute, which spans from 2018 to 2022, is being handled by the claimant's counsel. The counsel alleges that the recommendations made by William Cerf, a broker and investment advisor at UBS FINANCIAL SERVICES INC., were not suitable for the client. Furthermore, they claim that there was misrepresentation in the advice given to the client to invest in and hold an options overlay strategy.
This strategy is typically used by investors who want to generate income from their existing investments. However, it can also lead to significant losses if the underlying investments do not perform as expected.
In response to the allegations, Cerf stated, "This is an action against UBS, not me personally. I have worked in this client's best interest at all times, as I do with all my clients."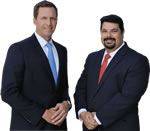 AD - Recover your investment losses! Haselkorn & Thibaut, P.A. is a national law firm that specializes in fighting ONLY on behalf of investors. With a 95% success rate, let us help you recover your investment losses today. Call now 1-888-784-3315 or visit InvestmentFraudLawyers.com to schedule a free consultation and learn how our experience can help you recover your investment losses. No recovery, no fee.
Recovering Losses with Finra Arbitration
So, what happens if you find yourself in a similar situation? The Financial Industry Regulatory Authority (FINRA) provides an arbitration process to resolve disputes between investors and brokers. This process is generally faster and less expensive than going to court.
Here are some key points to remember:
Arbitration is a legal process, but it's less formal than court. The parties involved present their case to a panel of arbitrators who then make a decision.
Arbitration can be binding or non-binding. In a binding arbitration, the decision is final and the parties must abide by it. In a non-binding arbitration, the parties can reject the decision and choose to go to court instead.
Investors can recover their losses if the arbitrators rule in their favor. The broker or firm is then required to pay the awarded amount.
It's important to note that each case is unique and the outcome of an arbitration can vary. However, the FINRA arbitration process provides an avenue for investors to seek redress and potentially recover their losses.
Final Thoughts
The financial world can be complex and challenging to navigate. It's crucial for investors to understand their rights and the mechanisms available to them in case of disputes. The ongoing case against UBS FINANCIAL SERVICES INC. serves as a reminder of the importance of transparency and suitable advice in the financial services industry.