In recent financial news, a dispute has arisen involving Jeffrey Scott, a Registered Representative at Centaurus Financial, Inc., and a group of customers who have lodged a complaint against him. The customers allege that Scott recommended an investment that was high-risk, speculative, and illiquid. However, the Statement of Claim did not identify specific dates for the alleged activity.
Details of the Dispute
According to the BrokerCheck report with the reference number 2277984, Jeffrey Scott has been associated with Centaurus Financial, Inc. (CRD 30833) since January 2, 2014, serving as a broker and an investment advisor. The dispute, which is currently pending, was lodged by customers who felt their investments were mishandled.
Scott has denied any wrongdoing, asserting that the allegations are completely without merit. He maintains that the investments in question were suitable and were recommended based on the customers' objectives, goals, and financial circumstances. He also claims that the investments were offered only after the customers had reviewed all relevant documentation related to the investment.
Furthermore, Scott states that the customers confirmed in writing that they not only received the requisite investment documentation/disclosures, but that they fully understood the characteristics and risks of the investments. He insists that he always puts the customers' interests first and plans to vigorously defend this matter to the fullest extent of the law.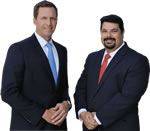 AD - Recover your investment losses! Haselkorn & Thibaut, P.A. is a national law firm that specializes in fighting ONLY on behalf of investors. With a 95% success rate, let us help you recover your investment losses today. Call now 1-888-784-3315 or visit InvestmentFraudLawyers.com to schedule a free consultation and learn how our experience can help you recover your investment losses. No recovery, no fee.
Recovering Losses with Finra Arbitration
For investors who find themselves in a similar situation, it's important to note that there are avenues available for recovering losses. One such avenue is through Finra arbitration. Finra, the Financial Industry Regulatory Authority, provides a platform where disputes between investors and brokers can be resolved. This can be a more efficient and cost-effective alternative to traditional litigation.
Investors can file a claim with Finra, outlining the specifics of their dispute.
Finra will then serve the claim to the broker or brokerage firm, who will have 45 days to respond.
Both parties will then select a panel of arbitrators who will review the case.
Once the arbitration hearing concludes, the panel will make a decision, which is typically binding.
While this process can be navigated independently, it's often beneficial for investors to engage an attorney experienced in securities law and Finra arbitration. This can increase the chances of a successful outcome.
In conclusion, while disputes like the one involving Jeffrey Scott and Centaurus Financial, Inc. are unfortunate, they serve as a reminder for investors to thoroughly understand the risks and characteristics of their investments. And, should disputes arise, know that systems like Finra arbitration are in place to help recover potential losses.