In a recent development, a customer dispute has arisen, alleging that Joseph Wagstaff, a representative of FIDELITY BROKERAGE SERVICES LLC, made an unsuitable recommendation that resulted in significant financial loss. The dispute revolves around an annuity transfer that triggered an unexpected tax event.
Details of the Dispute
The customer has claimed that Wagstaff's advice was not in their best interest, leading to a loss of approximately $184,000. The unsuitable recommendation involved the transfer of an annuity which, unbeknownst to the customer, created a taxable event. The representative in question, Joseph Wagstaff, is currently associated with both FIDELITY BROKERAGE SERVICES LLC (CRD 7784) and FIDELITY PERSONAL AND WORKPLACE ADVISORS (CRD 288590). His roles span from November 28, 2016, to the present.
Representative: Joseph Wagstaff
Company: FIDELITY BROKERAGE SERVICES LLC
Alleged Loss: $184,000
Issue: Unsuitable recommendation leading to a tax event
Investors Recovering Losses with FINRA Arbitration
For investors who have suffered losses due to unsuitable recommendations or other misconduct by their brokers, the Financial Industry Regulatory Authority (FINRA) offers an arbitration process. This process is designed to resolve disputes between investors and brokers in a fair, efficient, and cost-effective manner.
The FINRA arbitration process allows investors to potentially recover their losses. It involves a panel of arbitrators who review the evidence, hear arguments from both sides, and make a decision. If the panel finds in favor of the investor, the broker or brokerage firm may be ordered to pay damages.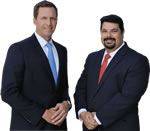 AD - Recover your investment losses! Haselkorn & Thibaut, P.A. is a national law firm that specializes in fighting ONLY on behalf of investors. With a 95% success rate, let us help you recover your investment losses today. Call now 1-888-784-3315 or visit InvestmentFraudLawyers.com to schedule a free consultation and learn how our experience can help you recover your investment losses. No recovery, no fee.
How FINRA Arbitration Works
Investors can file a claim with FINRA, detailing the misconduct and the losses they have suffered. The claim is then served to the broker or firm, who has 45 days to respond. If the broker or firm does not dispute the claim, the panel can award damages to the investor. If the claim is disputed, the case goes to a hearing where both sides can present their case. The panel then makes a decision, which is typically binding.
Conclusion
Investors who have suffered losses due to unsuitable recommendations or other misconduct by their brokers should consider the FINRA arbitration process. It offers a potential avenue for recovering losses in a fair and efficient manner. In the case of Joseph Wagstaff and FIDELITY BROKERAGE SERVICES LLC, it remains to be seen how the dispute will be resolved.