Two individual clients have lodged a dispute against Capital Investment Group, Inc., with the complaint centering on the purchase of securities from GWG Holdings, Inc. The clients were represented by two separate registered representatives from Capital Investment Group, Inc., with Craig McDaniel being the representative on a purchase of $50,000 of the security.
Details of the Dispute
The clients claim violations of the North Carolina Securities Act, negligence, breach of fiduciary duty, breach of contract, and respondeat superior. These allegations are serious and could potentially result in significant repercussions for the involved parties. The total monetary value of the dispute is $150,000.
Mr. McDaniel is currently associated with Capital Investment Group, Inc. (CRD 14752) and has been since 01/22/2004. He is also associated with Capital Investment Advisory Services, LLC (CRD 149124) since 09/29/2009. His roles include being a broker, an investment advisor, and having direct investment-DPP & LP interests.
Investors Recovery via FINRA Arbitration
Investors who have suffered losses due to broker negligence or misconduct may be able to recover their losses through FINRA arbitration. This process is designed to provide a fair, efficient, and cost-effective method for resolving disputes between investors and brokers.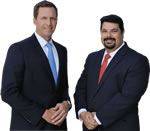 AD - Recover your investment losses! Haselkorn & Thibaut, P.A. is a national law firm that specializes in fighting ONLY on behalf of investors. With a 95% success rate, let us help you recover your investment losses today. Call now 1-888-784-3315 or visit InvestmentFraudLawyers.com to schedule a free consultation and learn how our experience can help you recover your investment losses. No recovery, no fee.
FINRA arbitration is quicker and less formal than court litigation, making it a preferred route for many investors seeking redress.
Arbitration panels consist of one to three arbitrators who are experts in securities law and are chosen by the parties involved in the dispute.
The arbitrators review the evidence, hear the arguments, and make a decision. The arbitration decision is final and binding, subject to a limited review by courts.
Investors considering this route should consult with a lawyer or other professional experienced in securities arbitration. They can guide the investor through the process and help to present the strongest possible case.
Ensuring Fluent Communication
It is essential to ensure that all communication regarding such disputes is clear, accurate, and fluent. Misunderstandings or miscommunications can lead to further complications and may potentially harm the chances of a successful resolution.
Therefore, clients are advised to engage with their representatives regularly, ensure they fully understand the nature of their investments, and promptly raise any concerns or queries. This helps to maintain a smooth process and improve the chances of a successful outcome.
It's also crucial for brokers to communicate effectively with their clients, providing them with all the necessary information and updates about their investments. This not only builds trust but also helps to prevent disputes from arising in the first place.