In a recent turn of events, a customer has raised a dispute against Kevin Dery, a broker currently affiliated with Wells Fargo Advisors Financial Network, LLC. The client has alleged that they were subjected to misrepresentations and unsuitable investments from 2019 through March 2020 while Dery was affiliated with Merrill Lynch, Pierce, Fenner & Smith Incorporated.
Details of the Dispute
The dispute, which is currently pending, was filed on July 14, 2023, under case number 2807430. The client claims that they were subjected to inappropriate investment advice and misrepresentations by Kevin Dery. The allegations primarily concern mutual funds and other managed/wrap accounts, which are in-house money management services provided by the brokerage firms.
Kevin Dery has been with Wells Fargo Advisors Financial Network, LLC (CRD 11025) since March 3, 2022. Prior to that, he was affiliated with Merrill Lynch, Pierce, Fenner & Smith Incorporated, where the alleged misconduct took place.
Investors Recovery through FINRA Arbitration
Investors who have been victims of broker misconduct have the option to recover their losses through the Financial Industry Regulatory Authority (FINRA) arbitration. This process allows investors to file claims against brokers and their respective firms if they believe they have been subjected to unsuitable investment advice, misrepresentations, or any other form of broker misconduct.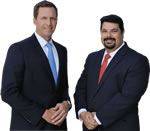 AD - Recover your investment losses! Haselkorn & Thibaut, P.A. is a national law firm that specializes in fighting ONLY on behalf of investors. With a 95% success rate, let us help you recover your investment losses today. Call now 1-888-784-3315 or visit InvestmentFraudLawyers.com to schedule a free consultation and learn how our experience can help you recover your investment losses. No recovery, no fee.
FINRA arbitration is a quicker and less formal process than court litigation. It is designed to resolve disputes within a year of filing.
The process is conducted in front of a panel of arbitrators who review the evidence and make a binding decision.
Investors can claim for compensatory damages, which are designed to put the investor back in the position they would have been in had the misconduct not occurred.
Protecting Investor Rights
Investors have the right to be treated fairly and to receive suitable investment advice from their brokers. When these rights are violated, they can turn to FINRA arbitration to seek justice and recover their losses. It is essential for investors to understand their rights and to take action when they believe they have been wronged.
Broker misconduct can have a significant impact on an investor's financial security. It is crucial for investors to regularly review their accounts, ask questions, and seek legal advice if they suspect any wrongdoing.
Investors who believe they have been victims of broker misconduct by Kevin Dery or any other broker should consider seeking legal advice to understand their options for recovery through FINRA arbitration.
Final Thoughts
Investing involves risks, but those risks should not include falling victim to broker misconduct. Investors trust their brokers to act in their best interests, and when that trust is broken, it can lead to significant financial losses. However, through mechanisms like FINRA arbitration, investors have a viable path towards recovering their losses and holding wrongdoers accountable.