In recent financial news, a client has lodged a dispute against Derek Taylor, an investment advisor at The Huntington Investment Company. The client alleges that Taylor's recommendation to invest in a Real Estate Investment Trust (REIT) was unsuitable, leading to a significant loss.
Details of the Dispute
The client alleges that the unsuitable investment recommendation was made on March 15, 2023. The dispute, which is still pending, could result in a potential loss of $25,000 for the client. The Huntington Investment Company, where Taylor is currently employed, has been registered with the Central Registration Depository (CRD) since March 29, 2010. Taylor has also been associated with Huntington Financial Advisors, another CRD registered firm, since July 3, 2013.
Investing in REITs
REITs are companies that own, operate, or finance income-generating real estate. They offer a way for individual investors to earn dividends from real estate—a feature typically reserved for large institutional investors. However, REITs can be highly complex and risky investments, making suitability a critical factor when advisors recommend them to clients.
Recovering Losses with FINRA Arbitration
When disputes arise between investors and their brokers or advisors, the Financial Industry Regulatory Authority (FINRA) provides an arbitration process as a way to resolve the issues. This process can often help investors recover losses resulting from unsuitable investment advice.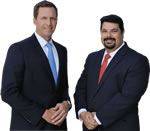 AD - Recover your investment losses! Haselkorn & Thibaut, P.A. is a national law firm that specializes in fighting ONLY on behalf of investors. With a 95% success rate, let us help you recover your investment losses today. Call now 1-888-784-3315 or visit InvestmentFraudLawyers.com to schedule a free consultation and learn how our experience can help you recover your investment losses. No recovery, no fee.
FINRA Arbitration: This is a quicker and less formal process than traditional court litigation. It involves a hearing in front of one or three arbitrators who listen to both sides before making a decision.
Recovering Losses: If the arbitrators decide in favor of the investor, the broker or advisor may be ordered to repay a portion or all of the losses.
Unsuitable Investment Advice: In cases where the dispute revolves around unsuitable investment advice, the arbitrators will consider whether the investment was appropriate given the client's financial situation, risk tolerance, and investment objectives.
Investors who believe they have been given unsuitable investment advice or have other disputes with their brokers or advisors can contact FINRA to initiate the arbitration process.
Conclusion
Investing always carries risks, but when those risks are exacerbated by unsuitable advice from trusted advisors, it can result in significant financial harm. Fortunately, mechanisms such as FINRA arbitration exist to help investors recover their losses. The case of Derek Taylor and his client serves as a reminder for investors to fully understand the nature of their investments and for advisors to ensure their recommendations align with their clients' investment profiles.
As this case is still pending, it remains to be seen how the dispute will be resolved and whether the client will be able to recover their losses through FINRA arbitration.