On November 18, 2021, a settlement was reached in a customer dispute involving David Rhodes of Summit Brokerage Services/Cetera Advisor Networks LLC. The claimants alleged that their registered representative recommended unsuitable and high-risk alternative investments. The settlement amount was $1,500,000.00, of which $250,000.00 was awarded to the claimants. The case was initiated by a deceased customer's estate and a trustee for her trust. The case number is 21-02858.
The alternative investments in question were suitable for the customer, as evidenced by written client documentation. The customer had accumulated her wealth through real estate and had a high comfort level with non-publicly traded Real Estate Investment Trusts (REITS). She was not comfortable with the stock market and especially individual stocks. In addition, she had been involved in several full-cycle REITs and understood the risks and potential rewards.
David Rhodes' Statement
David Rhodes, the broker involved in the case, was not a named party in the arbitration and did not contribute to the settlement amount. According to Rhodes, the named respondent firms made a business decision to settle this matter prior to any evidentiary hearings.
FINRA's Role in Dispute Resolution
The Financial Industry Regulatory Authority (FINRA) is a non-governmental organization that regulates member brokerage firms and exchange markets in the United States. FINRA is also responsible for resolving disputes between customers and their brokers or brokerage firms. More information about FINRA's role in dispute resolution can be found on their website, finra.org.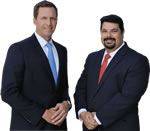 AD - Recover your investment losses! Haselkorn & Thibaut, P.A. is a national law firm that specializes in fighting ONLY on behalf of investors. With a 95% success rate, let us help you recover your investment losses today. Call now 1-888-784-3315 or visit InvestmentFraudLawyers.com to schedule a free consultation and learn how our experience can help you recover your investment losses. No recovery, no fee.
Recovering Losses with FINRA Arbitration
Investors who have suffered financial losses due to the misconduct of their broker or brokerage firm can recover their losses through FINRA arbitration. This process involves presenting their case to a panel of arbitrators, who then make a decision based on the evidence provided. The decision of the arbitrators is final and binding.
Investors can recover their losses even if their broker or brokerage firm has gone out of business or declared bankruptcy. In such cases, FINRA can use its resources to pay the arbitration awards. However, the amount that can be recovered is limited to the assets of the broker or brokerage firm.
Investors who wish to pursue arbitration should consult with a lawyer or other professional who is familiar with the FINRA arbitration process. They should also be prepared to provide detailed information about their investments and the misconduct of their broker or brokerage firm.