In a recent development, David Miller, a former broker of PeachCap Securities Inc., has consented to the sanction and the entry of findings without admitting or denying the findings. This decision comes after Miller refused to appear for on-the-record testimony requested by FINRA in connection with its investigation into the suitability of his investment recommendations.
FINRA's Investigation
The Financial Industry Regulatory Authority (FINRA) began its investigation into Miller's investment recommendations after concerns were raised about their suitability. The investigation was thorough and sought to ensure the protection of investors. However, Miller's refusal to appear for on-the-record testimony resulted in the imposition of sanctions.
The Sanctions
According to the Acceptance, Waiver & Consent (AWC) document, the sanctions imposed on Miller include:
Bar (Permanent)
Registration Capacities Affected: All capacities
Duration: Indefinite
Start Date: 7/27/2023
These sanctions effectively bar Miller from operating in any capacity within the financial industry, a decision which took effect on July 27, 2023.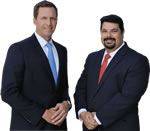 AD - Recover your investment losses! Haselkorn & Thibaut, P.A. is a national law firm that specializes in fighting ONLY on behalf of investors. With a 95% success rate, let us help you recover your investment losses today. Call now 1-888-784-3315 or visit InvestmentFraudLawyers.com to schedule a free consultation and learn how our experience can help you recover your investment losses. No recovery, no fee.
Miller's History with PeachCap Securities Inc.
Miller was associated with PeachCap Securities Inc. (CRD 25590) from October 3, 2015, to December 17, 2021. He also served with PeachCap Tax & Advisory, LLC (CRD 158729) from August 3, 2011, to December 17, 2021. Despite his previous roles, Miller is no longer registered as a broker or investment advisor.
Recovering Losses with FINRA Arbitration
For investors who may have incurred losses due to unsuitable investment recommendations, there is a possibility of recovery through FINRA arbitration. This is a streamlined process designed to help aggrieved investors recover losses from brokers or firms that have failed to adhere to industry standards. Investors can file a claim and, if successful, may be awarded damages.
FINRA arbitration is a viable option for investors who believe they have been wronged. It is a less formal, faster, and generally less expensive process than traditional litigation. The process is confidential and the decisions are final and binding.
Investors considering this route are advised to seek the assistance of legal professionals experienced in FINRA arbitration to guide them through the process and increase their chances of a successful claim.
In conclusion, the case of David Miller serves as a reminder of the importance of broker compliance with FINRA regulations. It underscores the regulatory body's dedication to protecting investors and maintaining the integrity of the financial markets.