In a recent turn of events, a customer dispute has arisen against David Baum, a representative of PRUCO SECURITIES, LLC and LIFEMARK SECURITIES CORP. (CRD 16204). The customer alleges that Baum did not fully disclose all the facts regarding the Command account.
Details of the Dispute
The customer claims that he was told his investment would double between 2017 and 2023. However, he contends that he was not provided with a complete and accurate picture of the investment strategy. He also alleges that the annuity he purchased did not include a spousal income rider, which according to him, was the most crucial aspect of the sale. The dispute is currently pending, with the customer seeking $99,706.744 in damages.
Background of the Parties
David Baum has been associated with LIFEMARK SECURITIES CORP. (CRD 16204) since January 4, 2023. His role involves serving as a broker and an investment advisor. The Command account in question is categorized as an Annuity-Variable Other, with the specific code N1010N.
Investors Recovering Losses with FINRA Arbitration
Investors who feel they have been wronged by their brokers or advisors have the option to recover their losses through the Financial Industry Regulatory Authority (FINRA) arbitration process.
FINRA arbitration is a quicker and less formal process than traditional court litigation. It involves a panel of neutral arbitrators who listen to both parties before making a binding decision.
For investors, this can be an effective way to seek redress for their grievances, especially in cases where they believe they have been misled or not provided with all the pertinent information about their investments.
It is essential for investors to understand their rights and the mechanisms available to them in case of disputes. The FINRA arbitration process is designed to protect investors and ensure fair dealings within the financial industry. Any investor who believes they have suffered losses due to misconduct or negligence on the part of their broker or advisor should consider this avenue for resolution.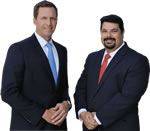 AD - Recover your investment losses! Haselkorn & Thibaut, P.A. is a national law firm that specializes in fighting ONLY on behalf of investors. With a 95% success rate, let us help you recover your investment losses today. Call now 1-888-784-3315 or visit InvestmentFraudLawyers.com to schedule a free consultation and learn how our experience can help you recover your investment losses. No recovery, no fee.
Final Thoughts
The case against David Baum serves as a reminder of the importance of full disclosure in financial transactions. Investors need to be provided with all the relevant information to make informed decisions. At the same time, brokers and advisors must uphold their responsibilities and obligations to their clients. The outcome of this dispute will be watched closely by industry insiders and investors alike.