In a recent development, a pending customer dispute has arisen in relation to the establishment of a liquidity access line, which allegedly was not in the client's best interest. The claim, filed between 2021-2022, is seeking damages amounting to $173,000.
Details of the Dispute
The dispute revolves around Broker Darcy Dahl of MORGAN STANLEY (CRD 149777), who has been associated with the firm since December 5, 2013. The claim alleges that Dahl's decision to establish a liquidity access line was not in the best interest of the client. The claim also implicates a non-broker-dealer affiliate product (48), which accounted for 45% of the issue.
Investment Advisor Role
It is important to note that Dahl's role at MORGAN STANLEY is not just limited to being a broker. She also serves as an investment advisor, focusing on Debt-Municipal Other. This dual role can sometimes lead to conflicts of interest, especially when the advisor's recommendations may not align with the client's financial goals or risk tolerance.
Investors Recovery through FINRA Arbitration
Investors who have suffered losses due to the misconduct of brokers or investment advisors have the right to recover their losses through the Financial Industry Regulatory Authority (FINRA) arbitration process.
FINRA arbitration is a quicker, less formal, and less expensive alternative to litigation. It allows investors to present their case before an impartial panel who will make a binding decision.
Investors can seek the help of legal professionals experienced in securities arbitration to guide them through the process and increase their chances of recovery.
It is crucial for investors to understand their rights and the steps they can take if they believe they are victims of broker misconduct or investment fraud. The pending case against Darcy Dahl and MORGAN STANLEY serves as a reminder of the importance of vigilance and due diligence in investment activities.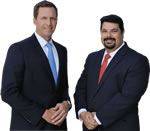 AD - Recover your investment losses! Haselkorn & Thibaut, P.A. is a national law firm that specializes in fighting ONLY on behalf of investors. With a 95% success rate, let us help you recover your investment losses today. Call now 1-888-784-3315 or visit InvestmentFraudLawyers.com to schedule a free consultation and learn how our experience can help you recover your investment losses. No recovery, no fee.
BrokerCheck Report
Investors are encouraged to use FINRA's BrokerCheck service to research the professional backgrounds of brokers and brokerage firms, as well as investment advisor firms and advisors. This free tool can help investors make informed choices about the individuals and firms with which they conduct business.
The BrokerCheck report for Darcy Dahl and MORGAN STANLEY (CRD 149777) provides valuable information for potential and current clients. It offers a comprehensive view of the broker's employment history, regulatory actions, and investment-related licensing information, among other facts.
Investor protection is a top priority in the financial industry. The FINRA arbitration process is a key tool in ensuring that those who have suffered losses due to broker misconduct or investment fraud have a path to recovery.