In a recent development, J.P. Morgan Securities LLC, a leading financial services firm, is facing a customer dispute over an alleged unsuitable recommendation regarding a managed account investment. The customer claims that the recommendation made by the firm's broker, Alexander Parisis, was inappropriate and led to significant financial loss.
The dispute, which the firm denied, involves a sum of $40,965. The activity in question took place on August 26, 2021. The customer alleges that the investment advice provided by Parisis was not suitable for their financial situation or investment goals.
Alexander Parisis has been associated with J.P. Morgan Securities LLC since February 20, 2018. He is registered as both a broker and an investment advisor with the firm. His role also includes managing accounts for the firm's clients.
The case, numbered 23-01555, is yet another addition to the list of disputes involving financial advisors and their clients. These disputes often revolve around issues such as unsuitable investment recommendations, misrepresentation, and failure to supervise.
It is important to note that all brokers and investment advisors are required by law to recommend suitable investments to their clients. This means they must take into account the client's age, risk tolerance, financial situation, and investment objectives. If a broker or advisor fails to do so, they may be held liable for any losses the client incurs.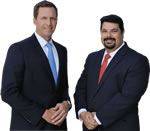 AD - Recover your investment losses! Haselkorn & Thibaut, P.A. is a national law firm that specializes in fighting ONLY on behalf of investors. With a 95% success rate, let us help you recover your investment losses today. Call now 1-888-784-3315 or visit InvestmentFraudLawyers.com to schedule a free consultation and learn how our experience can help you recover your investment losses. No recovery, no fee.
While J.P. Morgan Securities LLC has denied the allegations, it underscores the importance of investor vigilance and the need for financial advisors to provide suitable and transparent advice to their clients.
Investors are encouraged to regularly review their portfolio and understand the rationale behind each investment recommendation. They should also feel comfortable asking their advisors about recommended investments and how they fit into their financial plan.
The Financial Industry Regulatory Authority (FINRA) provides a tool called BrokerCheck that allows investors to research the professional backgrounds of brokers and brokerage firms. This tool can be a valuable resource for investors looking to ensure their advisors are acting in their best interests.
As this case progresses, it will serve as a reminder to both investors and financial professionals about the importance of suitable investment recommendations and the potential consequences of failing to meet this standard.