Frank Seminara (CRD# 2785718) is a prominent figure in the financial industry. As a Managing Director and Private Wealth Advisor at Morgan Stanley Private Wealth Management, Seminara has provided investment advice to high-net-worth individuals for over 25 years. He operates out of the firm's Florham Park Wealth Management office, which forms part of the larger Seminara Group – a team of 14 wealth planning and client service professionals.
Despite the success of his career, Seminara has not been without controversy. The Financial Industry Regulatory Authority (FINRA) records indicate that an investor has lodged a complaint against him, alleging that he provided misleading information. While specifics of the complaint are not publicly disclosed, it serves as a stark reminder of the potential hazards associated with investing, even when guided by highly reputable and experienced professionals.
This instance leads us to a crucial topic – investor protection and the measures individuals can take to safeguard themselves against financial advisors who might act unethically or incompetently. For those navigating the complex landscape of investments, here are some tips to consider:
Thoroughly Research Your Advisor: Review the qualifications and track record of any financial advisor you consider hiring. Websites like FINRA's BrokerCheck and the SEC's Investment Adviser Public Disclosure (IAPD) can provide valuable information on a professional's licensing, employment history, and any regulatory actions or complaints against them. As evident in Seminara's case, even advisors with long and successful careers can have complaints lodged against them.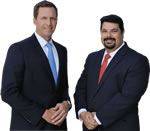 AD - Recover your investment losses! Haselkorn & Thibaut, P.A. is a national law firm that specializes in fighting ONLY on behalf of investors. With a 98% success rate, let us help you recover your investment losses today. Call now 1-888-784-3315 or visit InvestmentFraudLawyers.com to schedule a free consultation and learn how our experience can help you recover your investment losses. No recovery, no fee.
Understand Your Investments: While financial advisors are employed to provide expert advice, it's crucial for investors to have a fundamental understanding of their investments. Ask your advisor to explain any concepts or investment strategies you don't understand. Be particularly cautious of any investment that promises high returns with low risk, as these are often indicators of potential scams.
Communication is Key: Establish regular communication with your financial advisor. Ensure they understand your investment goals, risk tolerance, and other pertinent financial situation details. If your advisor recommends an investment that doesn't align with your goals or comfort level, it's essential to address it promptly.
Stay Vigilant: Regularly review account statements and trade confirmations. Promptly report any discrepancies or unauthorized transactions. Don't hesitate to seek a second opinion if an investment seems overly complex or you have concerns about your advisor's recommendations or actions.
In light of the complaint against Frank Seminara, Haselkorn & Thibaut, a law firm specializing in claims against brokerage firms, banks, and insurance companies, offers free consultations for those who have experienced investment losses. Their services operate on a contingency fee basis, offering assistance and recourse for those who might have been disadvantaged by misleading financial advice or mismanagement.
Ultimately, while financial advisors can provide valuable insights and advice, investors must stay proactive and engaged in managing their wealth. Through understanding, communication, and vigilance, investors can safeguard their assets and work toward their financial goals. As an investor, remember that your financial well-being is your responsibility. It's essential to equip yourself with knowledge, ask the right questions, and remain alert to ensure that your financial advisor acts in your best interests.
Free AlphaBetaStock's Cheat Sheet (No CC)!
+ Bonus Dividend Stock Picks