In a recent development, a customer dispute has emerged against Christopher Passero, a broker and investment advisor associated with MONEY CONCEPTS CAPITAL CORP and MONEY CONCEPTS ADVISORY SERVICE. The claimant alleges unsuitability, failure of fiduciary duty, misrepresentation, and omission of material information relating to the sale of GPB investments. The claimant is seeking damages worth $250,000.
Understanding the Dispute
GPB Capital Holdings is a New York-based alternative asset management firm. A significant number of investors have reported losses from investments in GPB Capital Holdings, with allegations of broker misconduct and fraud. The claimant in this case alleges that Christopher Passero, who has been with MONEY CONCEPTS CAPITAL CORP since 1998 and MONEY CONCEPTS ADVISORY SERVICE since 1999, was unsuitable in his advice, failed in his fiduciary duty, misrepresented facts, and omitted crucial information relating to the sale of GPB investments.
Role of FINRA in Investor Protection
The Financial Industry Regulatory Authority, commonly known as FINRA, is a non-governmental organization that regulates member brokerage firms and exchange markets in the United States. Its primary role is to protect investors by ensuring the integrity of the American securities industry. FINRA achieves this by enforcing rules governing the activities of more than 624,000 brokers across the country. Christopher Passero, the broker under dispute, is one of the professionals under FINRA's purview.
FINRA Arbitration: A Path to Recovering Losses
Investors who have experienced losses due to broker misconduct have a viable option for recovering their losses through FINRA arbitration. This process involves bringing a claim against the broker or brokerage firm, alleging misconduct or violation of FINRA rules. The arbitration is then heard by a panel of arbitrators who decide whether the broker or firm is liable for the investor's losses.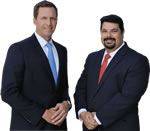 AD - Recover your investment losses! Haselkorn & Thibaut, P.A. is a national law firm that specializes in fighting ONLY on behalf of investors. With a 95% success rate, let us help you recover your investment losses today. Call now 1-888-784-3315 or visit InvestmentFraudLawyers.com to schedule a free consultation and learn how our experience can help you recover your investment losses. No recovery, no fee.
In the case of the claimant against Christopher Passero, they have chosen to utilize FINRA arbitration to seek damages worth $250,000. This decision to use FINRA arbitration may provide a more efficient and cost-effective method of dispute resolution compared to traditional litigation.
Importance of Legal Representation in Arbitration
While FINRA arbitration can be an effective way to recover losses, the process can be complex and challenging for individuals to navigate on their own. Therefore, it's crucial for investors to seek legal representation when entering into FINRA arbitration. A lawyer experienced in securities law and FINRA rules can help investors understand their rights, build a strong case, and navigate the arbitration process.
In conclusion, while investing always carries a degree of risk, investors do not have to suffer in silence if they become victims of broker misconduct or fraud. Organizations like FINRA exist to protect investors and hold brokers accountable for their actions. Through FINRA arbitration, investors like the claimant against Christopher Passero have a fighting chance to recover their losses and seek justice.