On July 18, 2023, a pending customer dispute was filed against Christopher Cavallaro, a registered representative (RR) from Lincoln Financial Advisors Corporation. The claimant alleges that Cavallaro recommended an unsuitable Oil & Gas investment and made false representations, leading to a loss of $40,000. Cavallaro, who has been with LPL Financial LLC since October 7, 2016, and Integrated Wealth Concepts LLC since October 17, 2016, is now under investigation.
The Role of FINRA in Resolving Disputes
The Financial Industry Regulatory Authority (FINRA) is a non-governmental organization that regulates member brokerage firms and exchange markets in the United States. As part of its mandate, FINRA provides a platform for arbitration, which is often the quickest and most cost-effective way to resolve disputes between investors and brokers.
Investors Recovering Losses with FINRA Arbitration
Investors who have lost money due to unsuitable investment advice or false representations by their brokers can recover their losses through FINRA arbitration. This process involves the following steps:
An investor files a statement of claim, outlining the dispute and the desired remedy.
The broker has 45 days to respond to the claim. If no response is received, the case proceeds in their absence.
Both parties select a panel of arbitrators, who will review the case and make a decision.
The arbitration hearing takes place, where both parties present their case.
The arbitrators make a decision, which is usually binding.
Investors who have been misled or given unsuitable advice by their brokers should not hesitate to file a claim with FINRA. The process is designed to be investor-friendly, with a focus on fairness and transparency.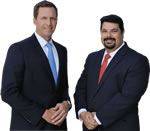 AD - Recover your investment losses! Haselkorn & Thibaut, P.A. is a national law firm that specializes in fighting ONLY on behalf of investors. With a 95% success rate, let us help you recover your investment losses today. Call now 1-888-784-3315 or visit InvestmentFraudLawyers.com to schedule a free consultation and learn how our experience can help you recover your investment losses. No recovery, no fee.
Christopher Cavallaro's Pending Dispute
In the case of Christopher Cavallaro, the claimant alleges that the RR recommended an unsuitable investment in the Oil & Gas industry, leading to a significant loss. If the allegations are found to be true, Cavallaro could face severe penalties, including fines, suspension, or even expulsion from the industry.
Investors who have worked with Cavallaro or any other broker from Lincoln Financial Advisors Corporation, LPL Financial LLC, or Integrated Wealth Concepts LLC and have suffered financial losses due to unsuitable advice or false representations are encouraged to seek legal counsel and consider filing a claim with FINRA.
Investors should always remember that they have rights and legal avenues for recourse. Through FINRA arbitration, they can seek and often recover their losses.