In a pending customer dispute, a former client of Centaurus Financial, Inc. has accused registered representative Steven Nielsen of improperly recommending a high-risk and illiquid investment. The client alleges the improper recommendation was made in February 2020, and has claimed damages of $51,000. The case, numbered 23-01868, is currently under arbitration.
Background of the Dispute
The customer's complaint was initially part of a multi-party arbitration filed on January 9, 2023. However, the broker/dealer requested and was granted a Motion to Sever, as the original arbitration was filed with multiple unrelated clients and/or representatives. This move was deemed necessary as there was no connection or correlation that would make a multi-party action appropriate.
Steven Nielsen, who has been with Centaurus Financial, Inc. since August 7, 2017, has categorically denied any wrongdoing. He asserts that the allegations are entirely without merit. He maintains that the investments in question were suitable and were recommended based on the customer's objectives, goals, and financial circumstances.
According to Nielsen, the customer confirmed in writing that he had received all relevant investment documentation and disclosures and that he fully understood the characteristics and risks of the investments. Nielsen insists that he always prioritized the customer's best interests and vows to vigorously defend this matter to the fullest extent of the law.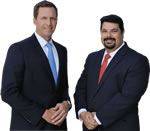 AD - Recover your investment losses! Haselkorn & Thibaut, P.A. is a national law firm that specializes in fighting ONLY on behalf of investors. With a 95% success rate, let us help you recover your investment losses today. Call now 1-888-784-3315 or visit InvestmentFraudLawyers.com to schedule a free consultation and learn how our experience can help you recover your investment losses. No recovery, no fee.
Investors Recovering Losses with FINRA Arbitration
For investors who have suffered losses due to broker misconduct, the Financial Industry Regulatory Authority (FINRA) provides a platform for dispute resolution through arbitration. This process allows investors to seek compensation for their losses.
FINRA arbitration is a faster and less formal process than court litigation.
The process is confidential, and the outcomes are typically binding, meaning they cannot be appealed in court.
Investors can represent themselves or hire an attorney to navigate the process.
Arbitration can result in full or partial recovery of losses.
If you believe you have been a victim of broker misconduct or investment fraud, it is crucial to act quickly. The FINRA arbitration process has strict filing deadlines, and delaying action could jeopardize your ability to recover your losses.
It's also worth noting that not all disputes are suitable for arbitration. Therefore, it's advisable to consult with a securities arbitration attorney to understand your rights and the best course of action.
Investors should always remember that investing involves risks, including the potential loss of principal. Therefore, it's crucial to fully understand the nature and risks of any investment before making a commitment.
Conclusion
As the arbitration process continues for Steven Nielsen and Centaurus Financial, Inc., it serves as a reminder of the importance of investor vigilance and the role of FINRA in protecting investor rights. It also underscores the value of understanding the characteristics and risks of investments before making a commitment.