In a recent development, a customer dispute has been filed against registered representative Cara Miller, currently affiliated with Mariner Wealth Advisors (CRD 140195) and previously associated with Concourse Financial Group Securities, Inc. and Proequities, Inc. (CRD 15708). The clients allege that Miller recommended unsuitable alternative investments in the Oil & Gas and Real Estate Security sectors, leading to a significant financial loss of $590,000. This case, identified under the number 23-01202N1110N, is currently pending.
Understanding the Case
As per the clients' claims, the investments recommended by Miller were not in line with their investment objectives and risk tolerance. This is a serious allegation as it is the responsibility of financial advisors and brokers to ensure that the recommended investments align with the clients' financial goals and risk appetite. The clients' allegations, if proven true, could mean a violation of the suitability standard in the investment industry.
Role of FINRA
The Financial Industry Regulatory Authority (FINRA) is a non-governmental organization that regulates member brokerage firms and exchange markets in the United States. It is dedicated to investor protection and market integrity through effective and efficient regulation of the securities industry. In this case, FINRA will be responsible for investigating the allegations against Miller and determining the validity of the claims.
Recovering Losses Through FINRA Arbitration
Investors who have suffered financial losses due to unsuitable investment advice have the right to recover their losses. One of the most effective ways to do this is through FINRA arbitration. This process allows investors to file a claim against their brokers or advisors, alleging misconduct or violation of industry standards.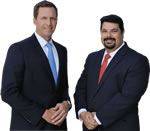 AD - Recover your investment losses! Haselkorn & Thibaut, P.A. is a national law firm that specializes in fighting ONLY on behalf of investors. With a 95% success rate, let us help you recover your investment losses today. Call now 1-888-784-3315 or visit InvestmentFraudLawyers.com to schedule a free consultation and learn how our experience can help you recover your investment losses. No recovery, no fee.
FINRA arbitration is a less formal and more streamlined process compared to traditional court litigation, and it typically results in a quicker resolution. The arbitration panel, composed of industry and public representatives, reviews the evidence and makes a binding decision. If the panel rules in favor of the investor, the broker or advisor is required to compensate for the losses.
What This Means for Investors
This case serves as a reminder for investors to always ensure that the investment advice they receive aligns with their financial objectives and risk tolerance. It is crucial to have open and honest discussions with your financial advisor about your financial goals and risk appetite.
If you believe you have been a victim of unsuitable investment advice, you have the right to seek compensation for your losses. Consider consulting with a securities arbitration lawyer to understand your options and navigate the FINRA arbitration process.
This case also underscores the importance of regularly checking your broker's records through tools like the FINRA's BrokerCheck. This tool provides information about a broker's employment history, regulatory actions, and investment-related licensing information, among other facts.
Conclusion
Investor protection is at the core of FINRA's mission. Through its arbitration process, it provides an avenue for investors to recover losses resulting from broker misconduct. This case is a stark reminder of the importance of suitability in investment advice and the role of regulatory bodies in maintaining market integrity.