Investors have a right to seek fair treatment and transparency in their financial dealings. When those rights are violated, recourse is available through entities like the Financial Industry Regulatory Authority (FINRA). Recently, an investor alleged that a representative, Bruce Sandry, failed to follow instructions regarding the sale of certain securities on or around June 1, 2022. The matter was settled on September 16, 2022, with the client receiving $5,583.67 in restitution. At the time of the alleged misconduct, Sandry was affiliated with Merrill Lynch, Pierce, Fenner & Smith Incorporated, and he is currently associated with RBC Capital Markets, LLC (CRD 31194) since October 20, 2022.
Understanding the Role of FINRA
FINRA is a non-profit organization authorized by the U.S. Congress to protect America's investors by ensuring the broker-dealer industry operates fairly and honestly. It does this by writing and enforcing rules and regulations for all registered broker-dealer firms and registered brokers in the United States. FINRA also provides tools, resources, and education for investors and industry professionals.
FINRA's Arbitration Process
When disputes arise between investors and brokers or brokerage firms, FINRA provides a platform for resolution through its arbitration process. This process is quicker and less formal than traditional litigation, and it provides a forum where investors can present their case to an impartial panel of arbitrators. The panel then makes a decision on the dispute, which is final and binding.
Recovering Losses with FINRA Arbitration
Investors who have lost money due to broker misconduct, such as failure to follow instructions, unauthorized trading, or misrepresentation, can file a claim through FINRA's arbitration process. This process allows investors to recover losses that may not be recoverable through other means. The recent case involving Bruce Sandry is a prime example of how investors can use FINRA's arbitration process to seek restitution for their losses.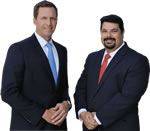 AD - Recover your investment losses! Haselkorn & Thibaut, P.A. is a national law firm that specializes in fighting ONLY on behalf of investors. With a 95% success rate, let us help you recover your investment losses today. Call now 1-888-784-3315 or visit InvestmentFraudLawyers.com to schedule a free consultation and learn how our experience can help you recover your investment losses. No recovery, no fee.
It's important to note that while FINRA arbitration can be an effective way to recover losses, it's not a guarantee. Success in arbitration often depends on the facts of the case, the evidence presented, and the decision of the arbitration panel. Therefore, it's crucial for investors to work with an experienced securities arbitration attorney who can guide them through the process and help them present a strong case.
Conclusion
Investors have the right to fair and honest treatment in their financial dealings. When those rights are violated, they can turn to FINRA and its arbitration process for recourse. As the recent case involving Bruce Sandry demonstrates, investors can and do recover losses through FINRA arbitration. However, success in arbitration requires a solid understanding of the process and a strong case, which is why it's advisable to work with an experienced securities arbitration attorney.