In the world of finance, disputes and disagreements are not uncommon. One such recent dispute that has caught the attention of investors and the financial community involves Bradley Meyers, a broker and investment advisor currently associated with ARETE WEALTH MANAGEMENT, LLC and 25 FINANCIAL.
Dispute Details
The dispute, which is currently pending, was filed by a client who alleges that Meyers made unsuitable investment recommendations back in July 2020. The client is seeking damages amounting to $50,000. The case is registered under the number 6455807.
Meyers, who has been with ARETE WEALTH MANAGEMENT, LLC since August 2017 and with 25 FINANCIAL since March 2022, specializes in Alternative Investment. However, this recent dispute raises questions about the suitability of his investment advice and recommendations.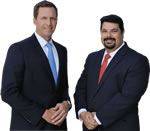 AD - Recover your investment losses! Haselkorn & Thibaut, P.A. is a national law firm that specializes in fighting ONLY on behalf of investors. With a 95% success rate, let us help you recover your investment losses today. Call now 1-888-784-3315 or visit InvestmentFraudLawyers.com to schedule a free consultation and learn how our experience can help you recover your investment losses. No recovery, no fee.
Investors Recovering Losses
When faced with such disputes, investors often turn to the Financial Industry Regulatory Authority (FINRA) arbitration for resolution. FINRA arbitration is a quicker, less formal, and typically less expensive way for investors to resolve disputes with their brokers or brokerage firms.
Investors can file a claim with FINRA, detailing the nature of their dispute and the damages they are seeking.
Once the claim is filed, the broker or firm has 45 days to respond.
The case is then heard by a panel of arbitrators who make a decision based on the evidence presented.
Most importantly, the decision made by the FINRA arbitration panel is final and binding.
Through this process, many investors have been able to recover their losses resulting from unsuitable investment recommendations or other forms of broker misconduct.
Conclusion
In the world of finance, trust is paramount. Investors place their trust and hard-earned money in the hands of brokers and investment advisors, expecting them to make suitable recommendations that will yield positive returns. When that trust is broken, it's important for investors to know that they have recourse. The FINRA arbitration process is one such avenue for investors to seek and often recover their losses.
As for Bradley Meyers, the outcome of the pending dispute will likely have significant implications for his future in the industry. It serves as a reminder to all brokers and investment advisors about the importance of providing suitable investment advice and maintaining the trust of their clients.