The national investment fraud law firm, Haselkorn and Thibaut, is exploring possible sales practice violations by financial advisors who were recommending Borr Drilling Limited (NYSE: BORR) and other energy industry-related investments to investors.  This is particularly bad news for investors as crude trades to the lowest level of negative $37.63 a barrel.  Borr may be just one of many companies to possibly go belly up. (Read More About DO Stock)

Looking Back, the BORR stock price was high as the $14.00 range in 2019. At the beginning of 2020, BORR stayed $9.00/share or higher for a moment. More lately, BORR is trading under $1.00/share and even lower.
Borr Drilling Limited, founded in 2016, is currently headquartered in Hamilton, Bermuda. It operates as an offshore drilling contractor to the oil and gas industry worldwide. BORR provides drilling services to the gas and oil exploration and production companies, including integrated oil companies, state-owned domestic oil companies, and independent oil and gas businesses. The company was previously called Magni Drilling Limited.

Borr Drilling Limited Investigation
For main street investors, this is a particularly harsh blow as these are the kinds of investments that were often recommended by stockbrokers and financial advisors who did not disclose the possible level of danger which was accomplished and investors were unaware of the real amount of risk to which their investment chief has been vulnerable as it was never adequately disclosed (if it was ever disclosed at all) by their financial advisors.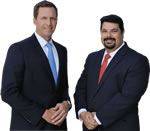 AD - Recover your investment losses! Haselkorn & Thibaut, P.A. is a national law firm that specializes in fighting ONLY on behalf of investors. With a 95% success rate, let us help you recover your investment losses today. Call now 1 888-628-5590 or visit InvestmentFraudLawyers.com to schedule a free consultation and learn how our experience can help you recover your investment losses. No recovery, no fee.
For some investors, a private FINRA arbitration customer dispute permits them to bring a claim and potentially recover their investment losses. These customer disputes typically involve only paper discovery and no depositions, and they're generally quicker and more efficient in comparison to traditional court litigation since they provide a private forum to resolve disputes more quickly and economically.
The sole purpose of this notice is to investigate the manner in which financial advisor, broker-dealers marketed and sold Borr Drilling Limited stocks, notes, and bonds to investors as well as the supervision of the same. If you have any knowledge or experience with these matters, please contact Haselkorn & Thibaut, P. A. atwww.investfraudlawyers.com or call 1-888-628-5590.