On May 17, 2023, a pending customer dispute was filed alleging that an unsolicited investment made by an investor in March 2021 into the Strategic Energy Assets VIII Access Fund was inappropriate. The investor, who wishes to remain anonymous, claims that the investment, which has since provided tax benefits and distributions, was unsuitable for his financial situation. The claim is for a substantial amount of $100,000.
The investment was facilitated by Charles Lewis III, a broker currently affiliated with Growth Capital Services, Inc. and previously with Orchard Securities, LLC (CRD 133378) from April 21, 2021, to May 25, 2023. Mr. Lewis is also a named party to this arbitration. The specific investment type involved in this dispute is Direct Investment-DPP & LP Interests, with a focus on Oil & Gas.
FINRA's Role in Resolving Disputes
The Financial Industry Regulatory Authority (FINRA) is a non-governmental organization that regulates member brokerage firms and exchange markets in the United States. It operates under the supervision of the Securities and Exchange Commission (SEC). FINRA is responsible for enforcing rules governing the ethical activities of all registered broker-dealer firms in the U.S. It has the authority to take disciplinary actions against firms and individuals who violate these rules. For more information on FINRA and its role, you can visit their website.
FINRA Arbitration
FINRA arbitration is a faster, simpler, and less formal alternative to litigation that allows investors to resolve disputes with brokers and brokerage firms. When investors open an account with a brokerage firm, they typically sign an agreement stating that any disputes with the firm or its brokers will be resolved through arbitration rather than through the court system.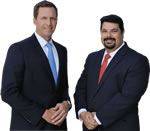 AD - Recover your investment losses! Haselkorn & Thibaut, P.A. is a national law firm that specializes in fighting ONLY on behalf of investors. With a 95% success rate, let us help you recover your investment losses today. Call now 1-888-784-3315 or visit InvestmentFraudLawyers.com to schedule a free consultation and learn how our experience can help you recover your investment losses. No recovery, no fee.
Recovering Losses with FINRA Arbitration
Investors who believe they have been wronged by their brokers can file a claim with FINRA. The process involves submitting a statement of claim, describing the dispute, the parties involved, and the remedy sought. The claim is then reviewed, and if it is found to be valid, an arbitration panel is formed to hear the case.
Arbitration panels typically consist of one to three arbitrators who review the evidence and arguments presented by both sides. Following the hearing, the panel makes a decision. If the panel rules in favor of the investor, the broker or firm may be ordered to pay damages.
It's important to note that while FINRA arbitration can result in the recovery of losses, it does not guarantee a favorable outcome for the investor. The success of a claim depends on a variety of factors, including the strength of the evidence and the specifics of the case. Investors considering arbitration should seek legal advice to understand their rights and options.
As in the case of the dispute involving Charles Lewis III and the Strategic Energy Assets VIII Access Fund, FINRA arbitration provides a platform for investors to seek redress for their grievances and potentially recover their losses.