In the latest financial news, a pending customer dispute has emerged involving Benjamin Davis from OPPENHEIMER & CO. INC. The claimants have asserted claims for breach of fiduciary duty, fraud, negligence, breach of contract, unsuitability, and churning. The allegations are in connection with the use of margin and trading in their accounts, primarily from the period of 2016 to 2019.
The Allegations
The claimants allege that Benjamin Davis and OPPENHEIMER & CO. INC. have breached their fiduciary duty, committed fraud and negligence, breached their contract, and engaged in unsuitable trading and churning. The allegations revolve around trading activities, particularly those involving:
Equity Listed (Common & Preferred Stock)
Options
Margin trading
These activities allegedly took place from 2016 to 2019.
Benjamin Davis's Response
In response to these allegations, Benjamin Davis has firmly denied any wrongdoing. He stated, "I at all times conducted myself in an appropriate and professional manner. I deny all allegations of wrongdoing, and intend to vigorously defend myself against the false, unwarranted, and unsubstantiated allegations."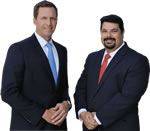 AD - Recover your investment losses! Haselkorn & Thibaut, P.A. is a national law firm that specializes in fighting ONLY on behalf of investors. With a 95% success rate, let us help you recover your investment losses today. Call now 1-888-784-3315 or visit InvestmentFraudLawyers.com to schedule a free consultation and learn how our experience can help you recover your investment losses. No recovery, no fee.
Investors Recovering Losses with Finra Arbitration
In light of such disputes, it's important to note that investors who suffer losses due to broker misconduct have the right to recover their losses through FINRA arbitration. The Financial Industry Regulatory Authority (FINRA) operates the largest securities dispute resolution forum in the United States and provides a platform for investors to arbitrate disputes with their brokers.
Investors who believe they have been wronged can file a claim with FINRA, outlining the nature of their dispute and the losses they have incurred. The arbitration process is designed to be faster and more cost-effective than traditional litigation, making it a preferred method for many investors seeking justice.
It's crucial for investors to understand their rights and the procedures involved in FINRA arbitration. If you or someone you know has suffered financial losses due to broker misconduct, consider seeking legal advice to explore the possibility of recovering your losses through arbitration.
In conclusion, while Benjamin Davis and OPPENHEIMER & CO. INC. are set to contest these allegations, the case serves as a reminder of the potential risks involved in margin trading and the importance of trust and transparency in the broker-client relationship.
Stay tuned for more updates on this case and other financial news.